Man, this blog has turned into a whining here's what-the-universe-crapped-up-on-me-today kind of blog, hasn't it? Well, it's time to get back to what this blog's always been about. Knitting, Fiber Addiction and Critters. :)

First, though, I figured I'd better let you know that I was NOT involved in any of the multiple car pile-up wrecks all over KC this past weekend. MAN they were horrid. I can't believe no one was killed in that big 40 car wreck on I-70. Amazing.

Momma DID get herself a new truck. A big arse truck. A sweet truck with amazing leather innerds. Can't you see some sweet stoplight/parking lot knitting in there? I'm thinking NO GO on the whole I-70/highway knitting in this bad boy. Sticking to parked knitting only. Heated seats, remote start, 4 wheel drive and FREAKING HUGE. The only issue is parking it in our little bitty normal sized garage. After hitting the button to make the mirrors pull in, I've got EXACTLY SIX INCHES CLEARANCE on the sides. That's SIX INCHES TOTAL, 3 freaking inches on each side. I pull forward until I'm 2 inches from the back wall and the door closes with about 2 inches there as well. I sweat like a pig every time I park the damn thing, but I do love it. (Those aren't actual pictures of MY truck, but it's the same model. Notice there's palm trees in the background instead of COLD WHITE SNOW?)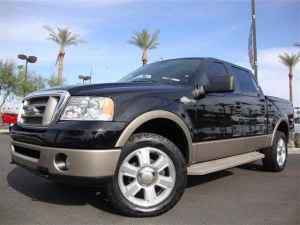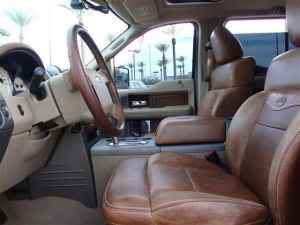 SO, more cha cha cha changes... I'm working on a major revamp of my etsy shop. There's just a bajillion really amazing yarn & fiber dyers out there that I can't compete with. I do good stuff. I love my stuff and everyone that's bought from me has been pleased (or at least that's what they said). I love it too. BUT I'm not making money at it. I'm actually quite honestly LOSING money. And the time.......sweet mother! I knew I was starting out too broad by offering hand dyed fiber, hand dyed yarn, AND handspun yarn, but I had to in order to find out A) what I was good at; B) what I enjoyed; and C) where the profit was. I'm thinking my niche is going to be changing from EVERYTHING FIBER RELATED to handspun yarn with a focus on kits/patterns/designs that feature my own little
Art Yarn for the Mild at Heart
theory of life. I'll still throw in the batch of hand dyed sockyarn and laceweight now & then, but am going to focus on spinning my arse off and seeing if I can create some of the images floating in my brain into actual yarny content. There's so much fabulous art yarn out there, I think there's a real need for more good patterns to be able to KNIT and WEAR that yarn too! Almost ready to go is a small arsenal of patterns & kits including....COMING SOON to an etsy shop near you.....and a Knitting in the Heartland Vendor table near you...... TreasureGoddess handspun art yarn Kits and Patterns! I just need a few more hours and a few less demands/disasters each day. No worries, right?
Critter update...still have a partially dried/tanned raccoon skin drying in the garage. Now have a pretty little pink casket (made from a tissue box) with a dead mouse in it waiting on the ground to unfreeze for burial in the garage also. Chuckette Norris is dead. (no sighing or awwwwwing allowed. You may now join me in a big WOO HOO!
WOO HOO!!!
) Yes, I realize a "good mother" would be a little more tactful. I'm not doing my happy dance in front of the children or anything. I was appropriately sad and dignified when told the critter was no longer with us. Or actually, she's STILL WITH US RIGHT NOW but she's no longer pooping on various parts of my house (since Jeff & the kids always took the little poop machine out to play). Now I'm trying to convince the man and the children that we really REALLY don't want to replace this final mouse (at once point we had FOUR) with a big ugly black rat. *shudder*
Happy Olympic Knitting everyone! My project is the Whisper Cardigan from Interweave Knits Spring 2009, a laceweight cardigan. I'm using the yarn I frogged from my Elizabeth Zimmermann's pie shawl disaster...remember the appendage? Hoping this project turns out a bit more wearable!