Working along at the gym, straining to lift those barbells up again and again...pumping serious iron, watching myself in the mirror to make sure I get just the right angle of the arm. Suddenly I notice something not quite right. OH MY HOLY HELL I shaved my right armpit twice and the left one not at all. nice. This wouldn't be too horrible, except I've got that milky white skin and hadn't shaved the ol'd pits for a few days since it's cold outside and I've been wearing sleeves lately. (I never said I wasn't lazy). Poor Trainer-Man. I'm half-sasquatch and half-normal. And did I mention that I actually grunt a little while I lift? damn I'm sexy.

Tip of the day....turn on the bathroom light when you take your shower in the morning no matter how hard it is to open your eyes. The world will thank you.

Ran out of yarn after 2 roses for the detail on the purple roses tank top. Still in the throes of crazy knitting, keeps me from snacking at night. Pulled out some yarn from the stash for the Prairie Tank top from an old issue of Interweave Knits that I tried and frogged about a year ago. I've got about 8 inches of the back done. It's got this cool lace thing going on and I'm enjoying it (mostly). My hands are so dry and cracked and nasty lately that it depresses me to work with nice silk or wool yarn because my fingers keep catching parts of it. Pulled out the hard unfeeling cotton. Seems to be working ok. Here's a pic of the project, I'm doing it in an off-white, ecru kind of color. I figure it'll be a hot-mommacita top to show off the new body.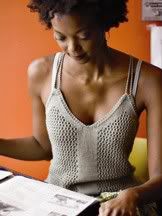 Also worked another inch on a pair of socks for Jeff, but the sock knitting just isn't speaking to me. I think it's because I'm waiting for the Socks that Rock club first package to come to me. It's supposed to ship the last week of February. I think it'll be perfect timing for me as that's prime crazy-drop-the-last-few-pounds any way they'll get off me time. I'm doing the normal eating good and exercising and lifting weights thing up until about 7 days left. Then I'm going unhealthy, insane and whatever works. I'm gonna need some good sock yarn. I see a lot of xlax, fruit juice and sweating in my future. Trainer-Man keeps telling me I won't need "the crazies" as he calls it, but we'll see. Let's all hope he's right. 134. Nine pounds on the bet from hell. That's totally do-able, right? RIGHT? From today it's officially two weeks left.
By the way, HAPPY VALENTINES DAY!!! I got a cute card from my folks, lots of hugs and kisses from the kids and we grilled steak dinners for Jeff and me. Jeff got me a nice watch that I really love. I got him a gift certificate for a cowboy hat at the local western shop and some workboot socks. (I gave him socks last year, my first pair I'd ever knit, so I had to continue the socks tradition.)