OK, so I just bought the pattern, and am just starting to think about what yarn to use. OH OH OH I'm excited about this one! Calista's site has such lovely designs.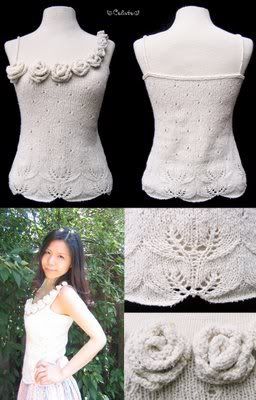 I'm also going to be working my way through my 4.3 MILES of sock yarn that I've accumulated.
Lime N Violet's sock marathon
is starting in January 07, and I figure what a perfect time I've picked to become totally addicted to socks, socks, SOCKS! Four point three miles is a LOT of freaking sock yarn. That doesn't count the ugly stuff I'm going to be getting rid of, either.
Pat from the
Yarn Shop & More
has a friend that works at one of the local women's safe houses. (the kind where abused women and children run away to) She said some of the women have shown interest in starting a small knitting group and she's taking donations of stash and needles (mostly worsted or heavier and probably mostly superwash or acrylic). I have a bunch of duplicates of wooden straight needles (I can't remember the last time I used straights, now that I'm circular & dpn-woman). I'm saving some for my daughter as she's still every so often picking up the needles and working on projects, but thought giving the extras would be a great way to give a little something to someone who could really use it. If you have stuff you'd like to donate, leave it at the Yarn Shop & More with Pat's name on it and she'll see it gets there.
HAPPY NEW YEAR PEOPLE!!! You've been such a great part of my 2006 that I want to thank you all! All you readers & commenters, you lurkers, you friends & family, you bloggers yourselves, have a safe and happy 2007.