No, not my kids, my SOCKS!!! (though the kids are cute too, no worries)

The color's actually more like the brown in the 2nd photo. Koigu Kersti 2 1/4 skeins, 2X2 rib on sz 5 dpns. EBONY double points. Life's too short to use crappy needles. I will eat macaroni from a box just so I can get away from those DAMN bamboo needles. I get more splinters and scuffy areas on them. These ebony babies just GLIDE the yarn along. They're like BUTTAH baby. More socks for Jeff (my bf). Like a good boy he also admitted they were quite pretty, but drew the line at actually petting them like I did. Socks for this man have to be very VERY muted and understated. aka brown. black. grey. That doesn't leave a whole lotta yarn falling into the shopping basket. This Koigu is gorgeous. It has just a few flecks of lighter colors, giving it a depth and oh, it's just stunning. Go ahead, pet them virtually. You know you wanna.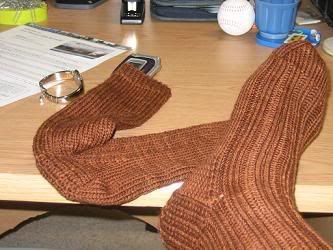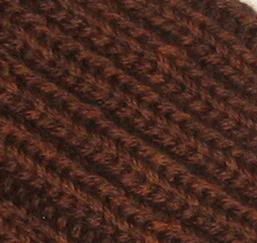 I have most of one ball of this left and one ball plus a few extra remnants of a green/brown medly of Koigu Kersti so I think I'll try to widen my horizons and make striped socks. Yes, I know. The excitement is just about too much to bear. I'm actually increasing the amount of yarn ends ON PURPOSE for a creative purpose.
TWO SNOW DAYS and then the weekend along with about 5 inches of snow on top of an inch or so of ice made for a few great afternoons of sledding!! I should've taken action shots from the bottom of the hill, but then I'd have had to walk back up to the top again. I took a few runs down the hill, our best was the last run, where we ALL THREE were on the sled and proceeded to FLY down down down and beyond the end of the hill and ended up dumped into the big slush pit next to the road. Kids were fine & dry in their snowsuits, but momma had a wet, cold ass, so it was TIME TO GO HOME! I do love the snow. It's absolutely beautiful around here!