MAN I love the day each Knitty episode comes out. Even if it's one like the sex in the knitty episode where I was tempted to knit, um, NOTHING, I still get all aflutter when I see my little image tag has changed to the new season's magazine! This one has many that are calling my name. I've even cast on for Monkey socks with two different balls of yarn. I love this girl's sock patterns! WOO HOO!

Magknits has its December issue out too and has some good stuff, I love the scarf pictured on the cover. Crochet Me has its winter 2006-2007 has been up for a little while. I just saw the Halloween/spooky issue of Anti-Craft. Go out there and browse and get all inspired.

Here's my monkey socks starts.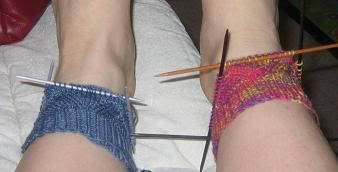 The one on the right was the first attempt, on some VERY vivid opal and size 2 dpns. Working up quickly and lovely, except I couldn't get over the fact that the way those colors combined in the pattern was starting to look exactly like the beginning of a migraine for me. The flashing of violently pink, yellow, green & whatever in an orb-like pulsing shape in my vision whether I open or shut my eyes forecasts a very very bad time a-comin'. I thought this would be just tempting the goddesses of fate, and put them away. Frogged and put them in the drawer. In the bottom of the drawer. In the dark. far, far away. No migraines, please.
The pretty thing on the left in blue is some koigu. I'm afraid it'll work up bigger and just have this thing about refusing to swatch for socks. Nope. Not gonna do it. I'll swatch my ass off for sweaters, tanks, what-ever else, but not socks. Though I have had to frog a few starts, I normally have enough completed socks in different yarns that I pretty much know what stitches per inch I get on the different yarns...Except I've never knit a koigu kpppm pair before. I've done Koigu Kersti (the dk weight) but not the little bitties. I thought and thought and figured I'd better start with 1's since I was just barely at gauge with the Opal 2's and the koigu seems to have more texture and heft to it. The yarn shop had NO lantern moon sz 1s and I've lost 2 of the set of my only pair. I was talked into trying out the new mini additurbo dpns. I do love the addi circs, but am not so much a fan of these little babies. They're 4 inches long. That part I thought would freak me out, but really, kind of cool. Stitches don't slide off (unless you put your big ol' FOOT through to try it on, um, lost a few stitches there this morning, but they picked right back up again), but they take some getting used to. I have to hold them differently because I kept getting a sore spot in my left hand where I was getting poked with the end. Though they were slick without being slippery, I'm still gonna stay with my lantern moon ebony's or dark wood. There's just a different feel to the wood. warmer? maybe? I don't know. It just feels better to me to knit my socks with the slicker wood than these metal toothpicks.
My sock experiment with the striping of the 2 koigu kersti balls left over to make a pair of socks is turning out much like the pile of dog barf I cleaned off the floor after Miles was trying to digest legos. It wasn't pretty. The picture (of the sock, not the barf) turned out too dark, so you won't have to look at it. It's funny how two balls of yarn can look so good sitting next to each other, but when knitted together the hand-painting can sometimes turn out so horrid.
OH, and I'm totally buying the Tilli Tomas yarn for the Sahara sweater. I'm gonna do it. It's gonna be my Christmas present to myself. Now I just have to decide what color combo to do and what sleeve length. It's going to have to be either sleeveless or the short cap sleeves cause that's just another chunk of change for the long sleeves, plus the combo of a clumsy woman with big ass bell sleeves is just asking for trouble.