Jeez. Life got nutty there, I know, I know imagine that...

First of all, PICTURE TIME! Yes, I FOUND the camera AND then found the battery charger and THEN found the cord to plug the damn thing into the computer. No, none of those things were in the same boxes, that would have made SENSE!

We've had family reunions out the wazoo lately, one more big one to come in July at Mom & Dad's lakehouse and we're about done. These are a few pics from Jeff's mom's side of the family reunion. We had a blast! First, I was VERY proud of my beer bread and spinach dip (Tastefully Simple mixes from my cousin, TELL me if you want some of this amazing stuff!) OH MY GOD I totally impressed the family! Every bite was eaten! One bottle of beer poured into the mix, stir for 30 sec's and toss into the oven for HEAVEN!!! That's the latest foulard in progress next to my tray. I am not only a dork, but a multitasking dork!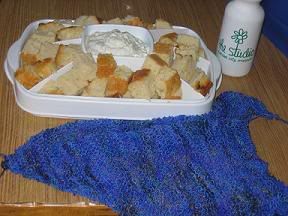 Jeff and I never do get pictures of us together, so I tried for some that day. We had FOUR taken in a row. This was the best of the bunch, we went through one where I looked like the wicked witch, one where Jeff looked to be grunting in pain, one which was just plain u.g.l.y. and this is what was left.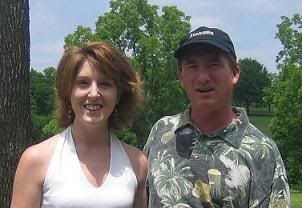 Joey had fun running around with Jeff's cousins' kids. Remember these old third-degree-causing lead-paint peeling slides from our childhoods? MAN those were the days!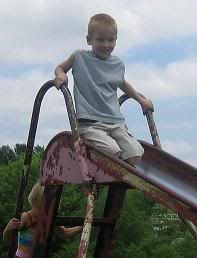 We've had family in town, my wild aunt Dot, otherwise known as the Knitress! My other knitting relative, woo hoo! She is a trip! We compared notes and admired and oohed and aahed appropriately and had a blast! I think I got her hooked on the clapotis and she had a tank top I could DIE for! We hosted a big ol' family dinner last night and had a BLAST! We'd not done an official "welcome to OUR home" thing since Jeff & I officially moved in until now. I got hit with a big ol' migraine the day before, so was moving very slow and still couldn't bend over or pick up anything heavy until late yesterday evening. Jeff was a doll, vacuumed the whole house, picked up and finished moving furniture, basically worked his ass off and put Joey to work as well. It was sweet. My cousin's husband and Jeff were even DOING THE DISHES afterwards while we sat and chatted with our aunts and Joey ran around catching lightning bugs with the kids. Good times! My cousin & her family, my brother, his wife & baby, 2 aunts and Jeff and Joey and I. It was a house full! It's so cool having this KC outgrowth of family! LOVE THAT!
On knitting news, I was just ready to start the handles on this felted purse I'm making out of cascade. I actually FROGGED AND REKNIT the top half of it to get it "just so" since I read the pattern wrong. I kept telling myself, MAN this is awfully floppy & loose gauge, MAN....... FINALLY figured it out...can you guess it? KNIT ENTIRE PURSE WITH TWO STRANDS OF YARN HELD TOGETHER. crap crap CRAP! I am the queen of felting and thought of many ways to avoid reknitting the whole damn thing...make another one slightly smaller, whip stitch them together...etc. but I spent $50 on some stinking shelled bead things to stitch to the damn thing and I really like the look of the bag the way it's supposed to be, so I'm just sticking it into the chest and gonna frog it again later. damn damn damn. Back to some cotton dishcloths to cool my mind.