Seriously, who is this woman? She cooks! She knits! She crochets! She gardens! She even got out her sewing machine! Don't worry all, she also drinks, curses and pouts. She's a well rounded individual.

In one week I have made chicken enchiladas, lasagne (the shorter version), sloppy joes and had the man grill burgers and steaks. We even had a leftover night. I have never in my entire 37 years of existence had enough actual dinner material to have a leftover night. It was quite impressive. The man does most of the house cleaning (even scrubs showers!) so I'm able to pick the things I enjoy and do them.

Here's some pics of the little flower box in our front yard. I have an herb garden. I don't actually know what the heck to DO with them yet, but I have been picking mint leaves and adding them to my tea and think I need to get a good recipe for mint julep drinks and have them on our new screened-in back porch that the honey has almost finished building. It's freaking wonderful sitting out there reading the paper in the cool of the morning.

Here's my ONE BLOOM of the four big gerbera daisy plants that's still standing in the yard: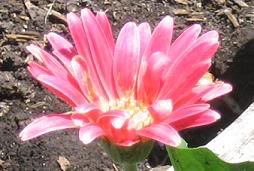 Our rabbit population is enjoying biting the heads off my damn flowers. Most of my plants look like this, green globs with stems sticking up.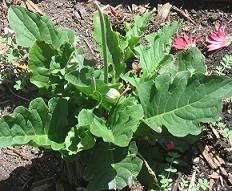 Here's part of my super hardy double knockout rose bush.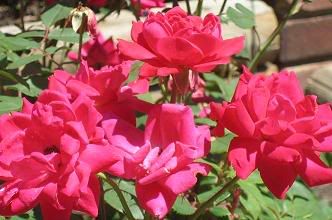 And lest you think I haven't been knitting....here's some baby bibs. Click the image to see a close-up version.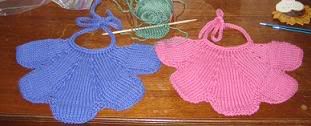 I've also gotten busy on my somewhat cowl and have it ready to switch to size 4 circs to do the waist ribbing, but have no size 4 needles. cripes. THEN I left the damn thing over at Jeff's cousin's house where we went for a kid's one year old swimming birthday party (where his cousin saw me quietly knitting while everyone else is just sitting around after we ate and said "what is this, like an addiction for you?") So, no pictures of that. I'm heading over this afternoon to pick it up as well as stopping by the LYS to get a new circ. I have those denise interchangeable things, but they only go down to 5s. I still have to pick up stitches and knit the neckline and sleeves and waist ribbing, but I'm hoping to be wearing it soon!