OH, I laughed on this one...Gilneas Knits. I added her to my list of knit blogs to read. She's got some cute original patterns too! NOW my girlfriends are getting these cute little bags that could be a cute bar bag, but are actually felted Vibrator Cosies! I immediately thought of a certain girlfriend who had a story about her suitcase being left open on the bed at her mother-in-law's house and ..... yup, out came the vibrator to the family in the hands of a small child who thought it was a "fun toy"." Well, the child was right, but looking back, if she had a cute little cozy to keep your little unmentionables out of sight, the whole scene could have been avoided....HAH!

Definitely for the girl who has everything...

I'm also making her hat with the top open for your pony-tail. I think I'll adapt it a bit, we'll see. It'll have to wait as now I'm a scarf-making FOOL. Last night I finished Mom's scarf and a black & white squiggle & black splash scarf....LOVING the 2 1/2 hour pattern (still takes me about 4 hours, but still love it!) These scarves turn out soft, fluffy, LONG and fabulous! Too bad I waited so freaking late to get started on Xmas stuff or I could have been selling the stuff! Maybe next year! Took pics, but didn't get them uploaded yet, I'll be working on the old blog this weekend and promise to post then.

Phoebe hat that only uses one skein of Noro Kureyon!!! LOVE this girl's stuff--

Our little doggie has sure melted right in with the family. It's like Miles has always been here. He's so gentle with the kids and it's nice company to have the little guy curled up on the floor next to my feet & knitting basket!

Wanna see what my goal is for the big "Annual Asian Refugee Christmas Party" aka the night this tall white girl goes out with my group of friends and eats and drinks and dances till dawn (only once a year, don't worry!) Daring Diva Halter I've got to not only get the thing knit, but I've got to do some serious push-ups and arm work to get away with this one....but it COULD happen, we'll see.....This is one of the reason I got the stick-on boobies from hsn.com!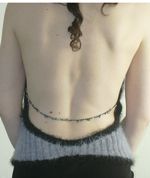 Marnie MacLean's Free Knitting Patterns these are STYLISH and cute!