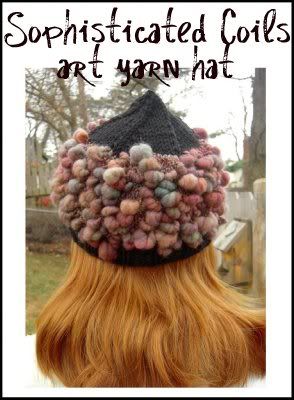 So, if you're not on ravelry, PLEASE EMAIL ME at treasuregoddessATsurewestDOTnet (replace the AT with @ and DOT with . ) and I'll send you the pdf files directly. Click the pics above to be taken to the ravelry page to download these freebies. :) I stinking LOVE that hat. Good thing, since I've now knit at least 6 of them and taught a class using this as the basic pattern piece. :) Go on and knit you one. What's that? You're not sure how to handle those strange coils in your art yarn? Well, just click the Knitting with Art Yarn tutorial picture and get busy!
I included a few cool tips in the tutorial above. My class students got a few more tips & techniques thrown in, and I'm still creating and "unventing" things as I go. I'm in the process of getting a real, live E-Book published with all the cool amazing funky things I've learned how to do (with much help from others along the way and much cursing from yours truly). Hoping it'll be out soon.
Also on the list is to get more of the fabulous coils yarn used in the pattern up on the etsy shop. ---Imagine if I was an organized woman....oh how lovely that would be...but I'm sure it'd make for boring blog reading.
The Sophisticated Coils hat would work well with just about any heavy-worsted to bulky handspun art yarn you may come up with...coils, cocoons, thick & thin, trapped puffs, etc. Give it a try and please let me know if you have any comments! My life (and my designs) are always a work in progress.
Is it Friday yet? Seems like an unbelievably long week.