Joey showing off his nebulizer (breathing treatment) vest air clearance therapy (vest that shakes the tar out of him) and picc line cover knitted by mom (although the iv is actually attached, or it's usually pulled down lower to cover the bandages and keep the little part of the cord from the picc line from catching on anything.
We're home now. YAY! Joey did amazing, had more tests & procedures than I can count without getting the shivers, and is feeling much better. He's still coughing & has stomach issues, but they're more manageable now and we have an action plan to finish getting him well at home.
SO, remember the little tufts of fiber wafting about Children's Mercy? Well the other night I was spinning THIS....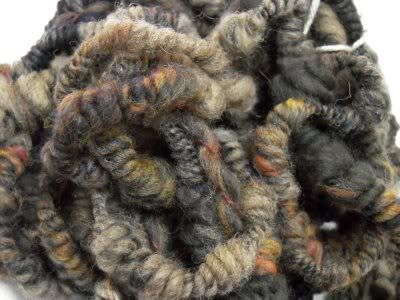 As one of the housekeeping ladies opened the door to empty the trash, it sent a little bit of air gusting through the room. A little tuft of that stuff came wafting across the floor away from me. I proceeded to yell "OH SHXT! A MOUSE!" and jumped up onto the chair, which caused her to yell something that sounded like mouse in another language that I didn't catch. After we figured out that it was nothing more than my stupid spinning fiber, we laughed and laughed. Then every time I saw her after that, she'd come in, wave and holler "mouse!" and laugh some more. CYG (Crazy Yarn Girl) apparently is not held back by language limitations. I'm apparently a dumbarse in any language.
Ah well, WE'RE HOME! WOO HOO!
And I'm spinning & organizing like a TRUE Crazy Yarn Girl to get ready for this weekend! Come by and say HI at the vendor market. I'll be the one in the orange cowgirl hat that hopefully is presiding over a vendor spot full of fiber in an organized fashion. Seriously, who am I kidding? I'll be the one in the hat with yarn thrown in mounds still pricing things and most likely with a margarita or 4 by 10am. :) At least I'll have cute bracelets!
Click to see the
Knitting in the Heartland Vendor List
.
Ramada Overland Park
7240 Shawnee Mission Pkwy
Overland Park, KS 66202
Vendor market 9-5 Sat & Sun