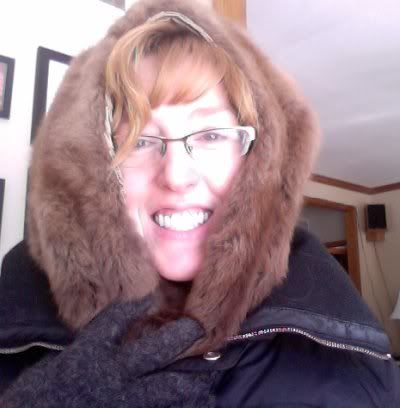 When it's -2 F outside, I need to get some critters involved. I was toasty warm on my way to work today. Wearing a 1950's mink stole over my head, my down coat, alpaca gloves, wool sweater, merino socks and leather cowboy boots. That plus a seat heater in the truck created pure heaven. Of course, I did get a few "looks" in the elevator.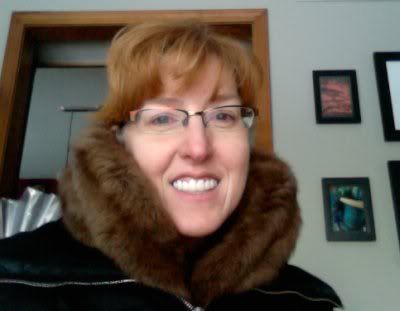 Later as the day warmed up, I fashioned myself a mink collar (folded the stole in half) and looked much more respectable. It made me feel like a fancy lady, like I should be wearing dresses like Lucy Ricardo and cooking roast for Sunday dinner. *sigh* PS, check out my new smile! I can't recommend my new dentist enough. THEY ROCK! Their theme is "We Cater to Cowards." Sign me up. Many crowns & bridges later, I have some beautiful normal non-hillbilly teeth. Yup. Fancy schmancy fur collar wearin normal teeth! If you're in the KC area, look them up. They do plain old dentistry up to reconstructive surgery (like me). AND they have massage chairs.
KC Dental Arts. My dentist is Dr. Bowen, but all 3 are highly recommended.
Ah well. This is a FIBER blog, right? Sorry about that. Here's a little bit of thick & thin handspun. Warm, woolly and wonderful. Can't you just see that as a snuggly classy cowl?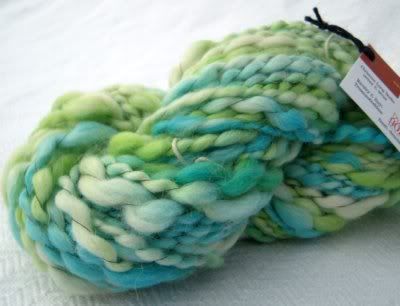 PS, for dinner we had hot dogs rolled up in crescent rolls. But when you dine with mink on, it's fancy. :)