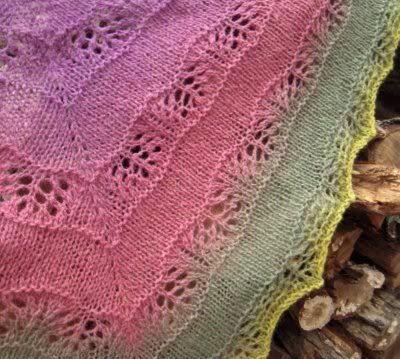 Have you knit up
Shaelyn
? A beautiful and FUN knit shawl by Leila Raabe.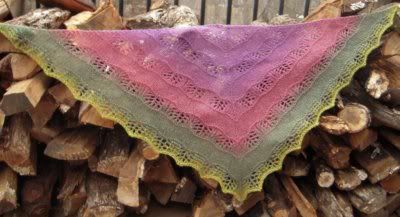 I knit one out of some beautiful fingering weight Kauni I had in the stash. Then I immediately cast on for another one out of the rest of the ball. I fell a little short, so ended with 6 rows (3 ridges) of garter stitch and then did my version of a super stretchy bindoff. VERY LOOSELY, I knit one, then slipped that stitch to the left needle. Then I knit two stitches together, then slipped THAT stitch to the left needle. Keep on keepin' on in that way until you're across the whole shawl.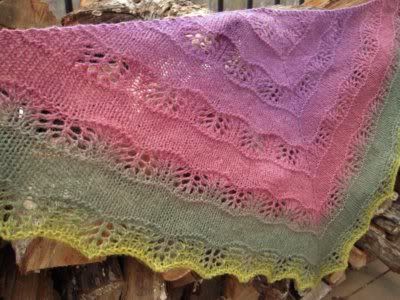 The colors were fabulous and Leila gave little hints of how to count your stitches so you don't even have to LOOK at the pattern. That rocked. It's been a stressful few days at Chez Weasley (everything's fine, just a lot of various crap to deal with). These shawls have been blessings to me. I do have to say it took EVERY part of my willpower not to run out and buy another skein of Kauni to finish the shawl...and THEN there'd be even MORE yarn left over....you get where I'm going with this, right? I saw a whole army of Shaylyn shawls! oh man, I STILL want to go buy more yarn. I wonder how this would look in a lovely solid? I happen to have some orange opal that is calling my name.....
Luke.....there is....another......
Skywalker
...Shaelyn.....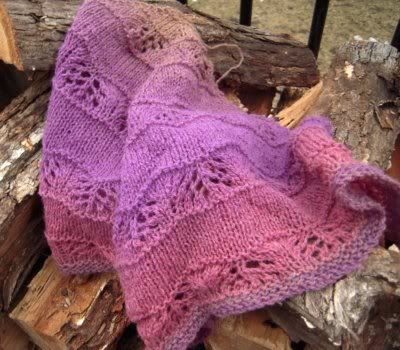 (The unblocked 2nd Shaelyn.)