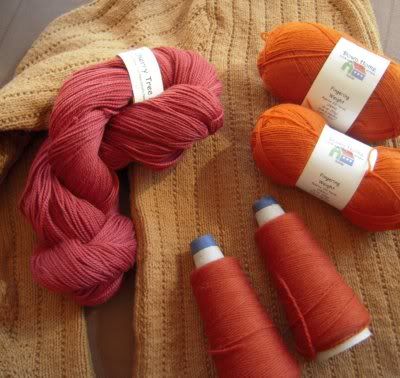 Remember that post a while back? The one about how you should think about your yarn in case something happens to you? Well, I am the recipient of some lovely yarn and a knit sweater from a local knitter that recently died. I'm so very honored to have been on her list. Vicki Stopple was an amazing knitter. Technically she was unstoppable. Cables, lace, colorwork, intricate sweaters, amazing. Beyond the knitting, she was a lovely woman, kind and funny. I'm proud to have known her a little bit.
I remember my first few meetings at the Sunflower Knitters Guild. I went to the morning meetings first and was very timid and quiet. YES I WAS TOO! I was a brand new knitter and not actually sure if I'd be allowed at the meeting and scared to bits that I'd have to prove my knitterly skills. Needless to say, the women there were welcoming, kind and funny. Vicki was thoughtful and kind and cracked me up too. She died recently and asked that some of her yarn, books and sweaters be distributed among a few of us lucky ones.
I'm honored to be able to knit with her yarn. I've got plans for socks for my kids, a scarf or two and hats galore. I think she'd like to know that my family will be kept warm by her kind gift.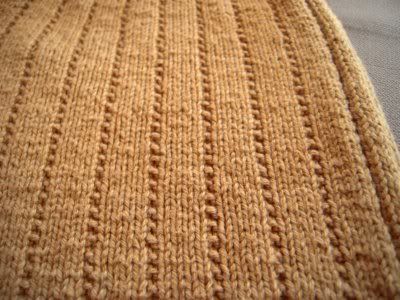 The most amazing part of all? One of her sweaters, a lovely in-progress cardigan, fits me like it was KNIT just for me. I absolutely love it. LOVE LOVE LOVE it. It's a simple garter stitch rib, one of my favorite simple yet classy stitch patterns. I actually just finished a pair of legwarmers using that very same stitch. I need to weave in a few ends, decide if I want to put on buttons or a zipper closure and it's good to go. I actually wore it for two days with all the ends hanging out as I was just so touched.
Thank you Vicki. Your kindness touched my soul. I feel better about the day when I leave my yarn to my friends. Much like those that get more than just warmth from prayer shawls, I feel like I've received way more than just yarn and a sweater. Each stitch I make with this yarn will include good thoughts for the woman that gave me the yarn and the people I'm knitting for.