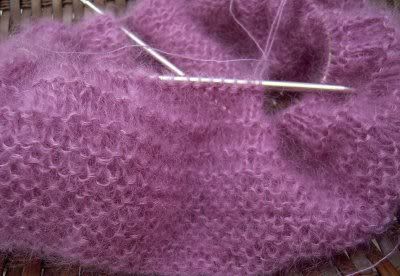 I couldn't wait. Cast on at 11pm last night while watching the 2nd season of the Dick Van Dyke Show. Knit a bit more this morning before leaving for work, and over lunch...who needs to eat? That's mohair knitting time, people! Eat when you're at work! I should've known. Out of all the sockyarns I've knit (and there's quite a few on that list), my very very favoritest one of all is Mountain Colors Bearfoot. Which has MOHAIR in it.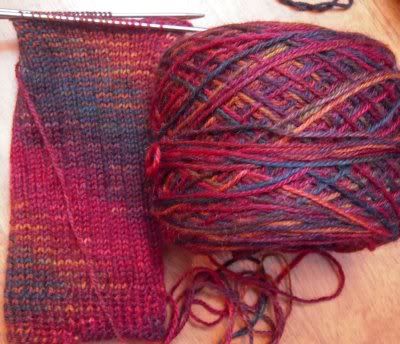 The red Citron on the needles? MOHAIR and alpaca.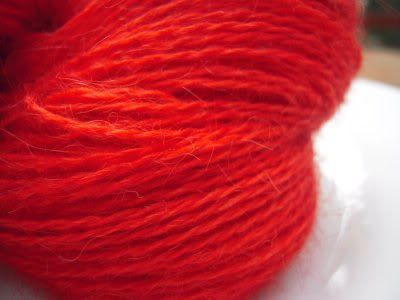 The purple loveliness above? Kidsilk Haze MOHAIR held double knitting up
Serenity Sweater
. Boy, even having to pick up dropped stitches through the garter stitch hem part couldn't get me down. I love the hairy stuff!
Now I'm drawn to cast on for a new design using some unbelievably blue heavenly hairy mohair I got for my birthday last year into a cowl/hood/scarf thingy. How do I not have a photo? Dangit. Now once I pick it up to take pictures, you KNOW I gotta cast on for something, right?
I've got to get myself away from the hairy. I'm going on a TEN DAY trip in a minivan with FOUR kids and the husband (he-who-cannot-stay-on-a-path) into the wild outdoors of Nebraska, South Dakota, Wyoming and Montana soon. It's gonna be HOT and wildernessy and last time I checked, there's not an affordable portable air conditioner to keep me able to swath myself in mohair across the country. Is there? Does anyone know of something? I could totally rock myself out hiking around Yellowstone in my very own air conditioned bubble. Man, I wish ticks & mosquitos were blocked by mohair. Wouldn't that rock? I wonder...
We have my burly man-cousin set up to stay at the house and he's well armed (as are the old men contingent that spend most of their days & nights sitting in various driveways watching the world go by) so no one come break in for the stash. Plus I'm gonna pack most of it with me to save what remains of my sanity. Didn't Elizabeth Zimmermann say that on family vacations one should bring lace to keep from killing your family? It was something like that. I do still have some laceweight deep teal mohair/alpaca yarn too.....