OK, is it wrong that I'm just as excited about all the knitting time as I am about our destination? Yellowstone, baby. Leaving at crack-oh-dawn in the morning. I'm thinking the knit time won't start until after nap time has ended.

First, the new pattern's official PEOPLE photos are all complete. No one fell in the mud, no city police officers were needed. I decided to keep a few of the artsy shots in the pattern and it's a nice mix of ways to show off the cool scarf!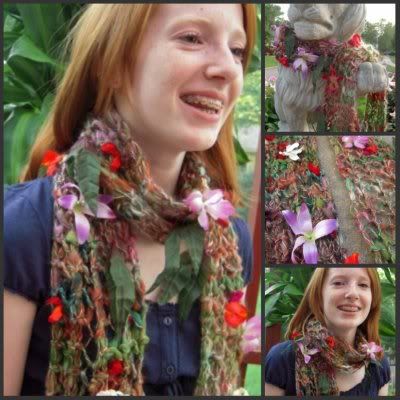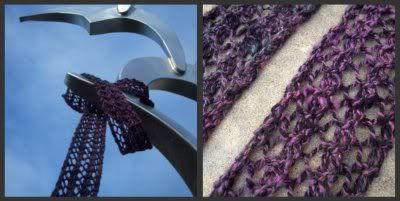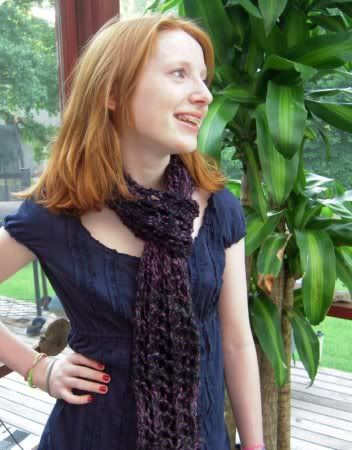 The Handspun Luau Scarf! Just think of wrapping this around your neck in the cold drab days of winter. You'll suddenly feel like you're on a Hawaiian beach ready for the Luau party! Super speedy knit and easy too. It looks fabulously complicated due to the faggoting, but is actually a ONE ROW pattern!
The yarn was purchased from
Cool Climates Etsy Shop
and was amazing to work with. She's got great style and makes a lovely yarn that's fashionable to boot. One skein worked up into a scarf that will keep my daughter warm all winter long.
Ok, enough of the hard sell. Sorry about that. :) Pattern's only $3 and is also lots of fun with a basic bulky handspun yarn also. The dark purple version was spun up by
tjstein
, or as I call her, she-who-blogs-not-enough. The yarn is sparkly and thick and sproingy. 100 yards will make you a nice long scarf!
SO on to the most important part of the trip preparations...what YARN to pack! (Yes, I packed underwear. Thank you to the reminder emails from my dear friends--
Yarn School Comando Style
isn't gonna have the same problem in Yellowstone.)
Packed and ready to go....
Almost completed Citron out of RED!ORANGE! hand dyed alpaca/mohair. I'm just about ready for the big ruffle at the end.
Purple mohair serenity sweater. I'm almost up to the arm holes! Light and fluffy like perfectly whipped cream. except hairy. and purple. purplymohairy.
The YELLOW sweater for YELLOWSTONE. Almost ready to do the sleeves & neckline of the slinky ribs out of silky wool. It's kind of meh for me, but am hoping it turns out well. Usually silky wool isn't too impressive in its still-knitting state. I think it has amazing drape ON the body, so we'll see.
Jeff's 2nd pair of uber long uber GRAY socks. Damnit. If I ever make it to the feet, I get to knit them with this cool Dream In Color Smooshy orangish brick red. I just got to make it that far.....
Swatching yarn, 700 yards of heavenly cormo sockyarn hand dyed in my favoritest orange. Going to design me a shawlette. If I don't go insane with all the stitch patterns of every book and website floating around in my brain. (Photo of the hand dyed orangeness on the Commando Yarn School link above).
There may be a skein of bright blue mohair in there also. I don't know. I was wandering about petting it and now can't find it. I'll let you know.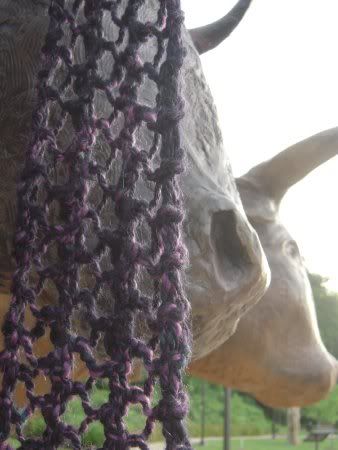 ***remember, our house is FULL while we're away with my burly man-cousin, lover of small firearms.