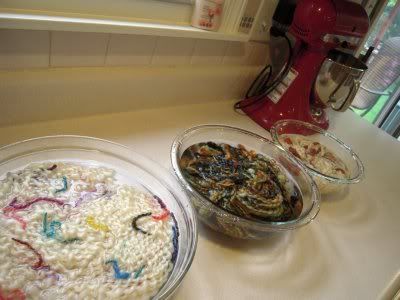 Nothing like fresh handspun yarn soaking on the counter, huh? Dangit. Sure wish I WAS a happy homemaker. I'd have my day all mapped out...
wake up, get kids ready for school
have a hot tea and check on the etsy shop, return any emails, list more yarn
Do housework for 2 hours
Lunch
Spin, knit or dye for the afternoon
Meet the kids after school
Cook a family dinner from scratch
Spend evening with family, watch star trek with husband, knit a bit
Dream the blissful sleep of those that don't have to work a full time job.
*sigh* Husband thinks my day would be more like...
wake up grumpy, knit knit knit, slam something on the table for dinner, knit knit knit.
Guess we'll never know for sure.....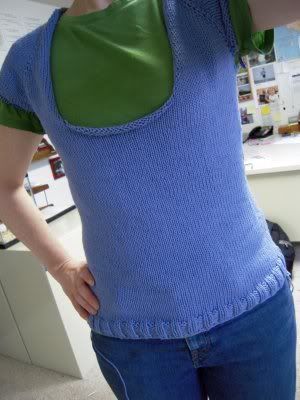 The clearing of the cotton stash continues. I'd show a completed photo of the purple sizzle sweater IF I COULD FIND THE DAMN THING! Yes, I've once again lost not only yarn, but an entire sweater IN MY STASH. I know it's in there somewhere, just can't seem to find the thing anywhere. Last seen at the Sunflower Knitting Guild meeting. I remember shoving it into a drawer..... it only needs blocking and ends woven in. Damn.
This is
Tomato
from the book
No Sheep for You!
It's also now available as a free download from ravelry. I still need to do neck & sleeve edging and it'll be done. I've got an embarrasing amount of cotton still in the stash so will have many more summer sweaters for my daughter and I hopefully completed soon.
Used up some leftover artyarns supermerino for picc line covers. Pretty cool how the pooling changed with the different stitch counts on the two tubes, huh?