OH I had such a good time, I feel like I just finished a nice long weekend. We headed to McPherson, hung out for a while in the nice spring air in the backyard drinking a few coronas with fresh limes. nice. Sun was shining, light breeze blowing, beautiful day. We drove to Hutchinson, KS to the airport there. They've got a cool little steakhouse and you can sit eating dinner watching the little planes land and takeoff from the window. Great evening. Since everyone (except me bwa ha ha haaaaa) had to work early the next morning, no tearing up of the town was done. *sigh* It was a great night. Snuggling in the motel bed later that night Jeff told me I am really a laid back fun girl when I'm not surrounded by the stress of children constantly. I said "huh, how about that." Now we're going to try to take these little mini holidays every few months just the two of us enjoying each other's company. OK, enough mushy crap. WANNA SEE MY YARN?

I visited an aunt there in McPherson and it was supposed to be a quick 15 minute stopover, but it was such fun that I didn't hit the road until over an hour and a half later than I planned. I had to be back in KC in time to pick up the kids from school, so there was some SERIOUS speeding and watching for state police traps enacted to make sure I got to my shops.

First stop was Lindsborg, KS, a very cute little sweedish settled town with a downtown that really should be studied over a couple of days. Did it in about 15 minutes, including a stop inside a local artists' gallery and a coffee shop. At the end of the main drag, the road runs into this lovely farm with a big ol' house and gardens and trees and this lovely little outbuilding that was once a garage and is now Laura May's Cottage. Very cute. How cool would that be to have your very own yarn shop in your YARD? too cool. I almost bought some bamboo cotton stretchy yarn for socks but then came quickly to my senses. no. I'm a wool sock girl. period. I did buy the new Monica Ferris book, Sins and Needles and 6 skeins of Elsebeth Lavold's Silky Wool for no good reason at all other than I must have picked it up 4 times and I figured why not. The book cracks me up. They need to start setting the first of these little knitter/crafter mystery series in BIG CITIES. All these cute little knitting shop owners that live in small towns and have books and books of murders are gonna run out of people pretty damn soon to kill off. Ah well. I like them even though there's not usually a whole lot of plot. I was hoping for some local handspun or hand dyed stuff and she really just had a great selection of the usual goodies.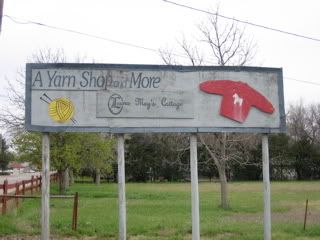 Tooling down the road, headed up to Salina, KS. My time schedule gave me exactly 26 minutes to shop and hit the road. I spend about 48 minutes and ended up actually taking flight to get home in time. Salina, KS to OP, KS in 2 hours and 6 minutes. It was a miracle. A knitter's miracle. Otherwise it would have been "oh, sorry Joey and Lizzie, please don't cry. Your momma didn't really leave you sitting on the sidewalk in front of the school so she could buy more yarn crack, really." There were A LOT of state police and sherrifs on the road so the yarn goddesses were doing their part.
I really REALLY liked the store in Salina,
Yarns...sold and told
If you find yourself heading across Kansas on I-70, it's worth the 6 mile trip south to stop in. The ladies were fun, I jumped right in on the oohing and aaahing and giggles going on with the local knitters' projects, comfy couches to sit & knit on and they have GOOD SOCK YARN! Can I get a woo hoo? WOO HOO! No lorna's laces or koigu, but a TON of opal and IT WAS ON SALE. It was not only on sale, it was the older stuff still at the older prices AND on sale. I got a skein of the stuff for 30% off of $15. How cool is that? They didn't have much of the multicolored or patterning stuff left, but a whole laundry basket full of solid colors, oranges, yellows, blues, and brick reds. I had to hold myself back since I'd already spent more than I was supposed to at the previous shop. They had a nice selection of Trekking XXL and cotton stuff and a few other sockyarns to boot. I also picked up a skein of Schafer yarn's esperanza (the bigger one) in Gertrude Ederle colorway and a Miss Priss in Indira Ghandi colorway to make some felted bags. I also picked up the new Interweave Crochet magazine and forced myself to put down the knitting books. They also had a TON of cascade 200 and just a great selection of all kinds of goodies. The shop is right downtown near a great Italian restaurant, it would make a nice stop on your trip.