Man, I love it when the new Knitty is up. Seriously. Then I get all aflutter with each month's issue of Magknits. *sigh* Sweaters are calling my name from both mags. Hurry up crochetme, it's time for you to crank out a new issue too dammit!

I want to try the extreme knitting written up in the new knitty. Holy crapamighty that would be unREAL to be able to pull one sock out from the other one while knitting on dpns. It absolutely boggles my mind. I can see unbelievable amounts of chocolate, cursing and mike's hard limeades being consumed in the pursuit of this amazing feat with pointy sticks. Seriously, who figures out things like that?

Today's taste of Maui...."Never fear, Coconut-man is here!"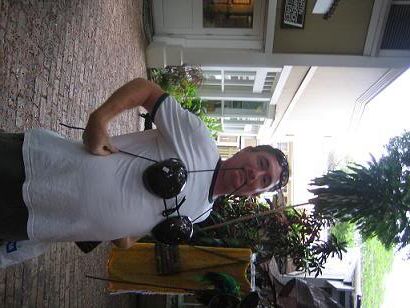 They sell those damn coconuts in sizes A, B, C, D and DD. This is what happens when you go shopping after happy hour.