When will I learn to use the freaking delay button on my camera? when? I tried. I really tried. I didn't actually find the manual or go online, but I pushed a LOT of buttons after finding the timer button. It is just a little too smart for me today. So, you get a crappy picture of what is working up to be quite a smart-looking sweater. It is turning out a bit loose, but I think it's ok. I'm just hoping the wool in the silky wool will help hold the stitches and not let it stretch out too much more. Maybe I'll even toss it in the dryer for a few minutes just to see what happens..... maybe not. I'll try to wear it as is first. no worries. The lace is cool, the knitting in the round just FLIES off the needles. It's like an obsession for me. I can't wait to finish up the sleeves and WEAR it! I still need to do the neckline so it'll be a low sweater worn over a tank top. I'm really enjoying knitting with the silky wool as well. STILL can't believe I got it for $5/skein. I heart webs!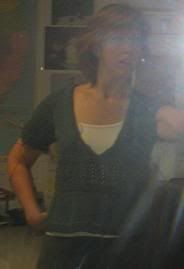 I promise to take a GOOD picture once the sweater is completed. I'd SO SO SO recommend this sweater to make, I did do some frogging on the lace band the first few rounds and then again on the first 2 rounds of the sleeve band, but that was because I am Mentally Lace Challenged, not because it was difficult. I think it's the easiest lace pattern I've ever done. Then I started thinking, hm, if I had to frog over and over on THIS thing, WTF was I doing jumping in on all those big ass lace shawl projects a couple of months ago??? Ah well. I don't think I've ever done anything the easy way. Life would've been much too boring. I just call it "taking the scenic route" whether we miss a few turns in the car and end up in the wrong part of town, or whether I miss a few stitches and I end up on the wrong side of the pattern.

THE BET IS ON....
I'm losing my connection to Blogger this am, so here's the nutshell version of the story. Never, ever make a bet when you're getting tipsy and mouthy. I can either win $2500 or lose $500 AND have to mow the grass with a crappy old push mower WHILE MY BOYFRIEND (and most likely the neighbors as well) sit in the driveway drinking a beer ALL SUMMER LONG. Bet is that I will or will not get to my target weight by March 1, 2006. If I get there earlier, I get the $$ then. I don't have to MAINTAIN the weight, I just have to be there for one moment that is witnessed by us both.

After shaking on the bet, I've since GAINED four pounds. nice. Jeff's sure he'll win because I OCCASIONALLY put things off until the very last minute and then run around like crazy for a few days. I don't know WHERE he got that idea. Wish me luck people.