Last night an actual dinner was served at my house. Chili in the crockpot, scalloped potatoes (I'd never made them before and they were the yummiest things I've ever eaten. I amaze myself. I truly do.), fruit, beer bread (brought by my sister-in-law) and spinach dip with a bottle of wine brought by my dad mom's angel food cake. mmmmmmmmm. I love getting family together! My little nephew Charlie is turning ONE YEAR OLD next week. My younger brother that lives in Naples, FL is coming back into town for a second job interview and is coming to the house Friday night, so I may just have to bake up some scalloped potatoes again. Seriously, me, a potato peeler, spices and casserole dishes. Who'd of thunk it? I've now made about 10 dinners that have all turned out good. I may even have to get out my old fake pearls and start vacuuming in heels. That oughta scare the crap out of Jeff, huh?

Speaking of JOB INTERVIEWS....Jeff is now gainfully employed. After his "summer sabbatical" he is working!!!! Whew. It was a long time from March to September. He is one of those SMART people that have SAVINGS set aside for just such an occurance, so he made it through ok financially, but it was getting to the end of the emergency fund and I was getting just a titch nervous that he never would work again. Then I was stressing because he was offered a job and ACCEPTED said job with a great stable company but kept putting them off and trying to get through the interview process with the new company and I was so worried he'd not get both jobs because of it, but it all worked out just perfectly and he even got out of the original job on good terms. He's working with a company he loves and doing what he loves (sales) so can have the flexibility he needs. YEAH for Jeff!!

Here's a shot of the simple knitted bodice, I'm 2 repeats into the lace band. I'm hoping this thing will fit ok. I did the cursed taking a million stitches off the needles and onto waste yarn and trying it on thing, but I still just can't really tell. The picture's pretty boring, but I hope it shapes up as pretty as the others I've seen on the sexyknitters blog.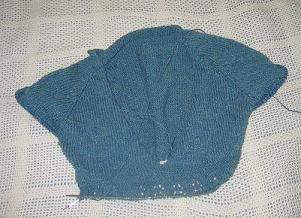 My little bit o' Maui for the day...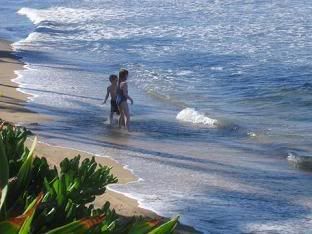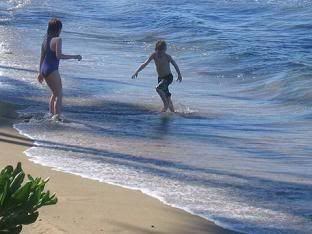 There's a good clearance sale going on at AnneTaintor's site. Click the pic below to get to her stuff. I'm thinking I need more note cards. And how much fun would a grab bag of magnets be?