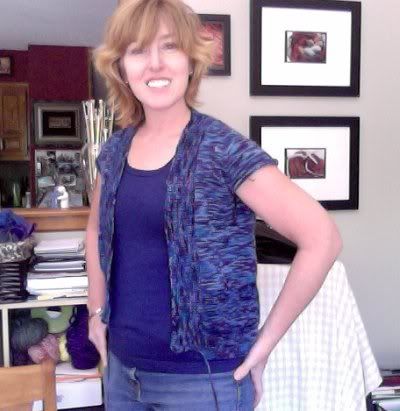 I'm leaving for the bahamas 3.5 days from now. I've slacked off a bit on my featherweight cardigan that I began just for this trip. It's a super fast vacation with my husband, a little 2nd honeymoon escape, and we're only bringing one carry-on bag and a small backpack. Good thing yarn squooshes, huh? I thought this would be the ideal cardi for this trip as it's soft, lightweight, squishes up to almost nothing since it was knit with laceweight yarn, is MALABRIGO BABY, and it matches all of my sundresses that I'm bringing. It can get a little chilly on the boat in the early morning and late evenings.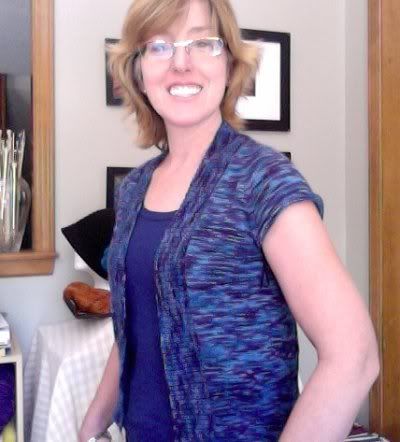 Only problem? NO SLEEVES. cripes. I kept thinking I had a couple more weeks, a couple more weeks, um HOLY CRAPAMOLY! SO I've got a few evenings ahead plus plane rides on the way. I have this ISSUE with sleeves. I don't like them and they don't like me. The last sweater I knit sleeves for had THREE by the time I was done. SO, I can either figure that there's no way in holy hell I will have 2 sleeves knit in laceweight yarn with 1X1 ribbed cuffs and just wear some crappy heavy thing. OR I could wear it as is, which quite honestly does look bad without actual sleeves. I think I'm just going to knit my living ass off and enjoy this floaty heavenly soft cardigan WITH SLEEVES!
Wish me luck, I'm gonna need it.
And, as always, we've got family staying at our house, so no freaky stash stealers come over please. PLUS we've got a new guard dog. Well, she guards my ankles as she sleeps at my feet while I knit, but I'm SURE if she knew my stash (or kids) were being threatened, she'd go insane.