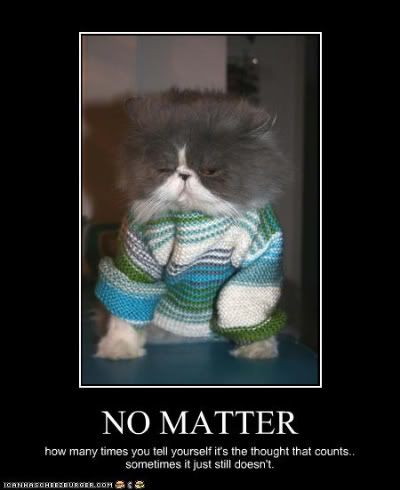 Hopefully it'll be better than a cat sweater....How about a free drawing? WOOLFEST was a WOOLBLAST! Thanks to the brave souls that went out in the cold weather. There were fun free classes (thrumming, knitting with wire, spindle spinning, continental purling, cables, etc) and lots of yummy yarns & fibers. I sold a ton and came home with some new goodies for my stash as well!
SO, let's do a couple of drawings. How about posting a comment here (the ones on the last post work too) and I'll have a random weasley-powered drawing on Sunday the 17th. I'll have a few things to give away...better pictures will come throughout the week (I'm still unpacking from Wamego). For sure, there'll be some form of yarn, a set of magnets and a couple of notecards with yarn/fiber on them, AND another pair of already knitted wrist warmers too.
I appreciate all the kind words & thoughts and also the $$ for helping me destash & etsy sale to get to pay for the laptop. I also picked up my truck from the shop today too! Shiny new engine and new belts & hoses to boot. YAY!