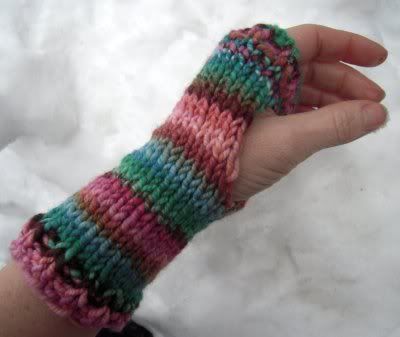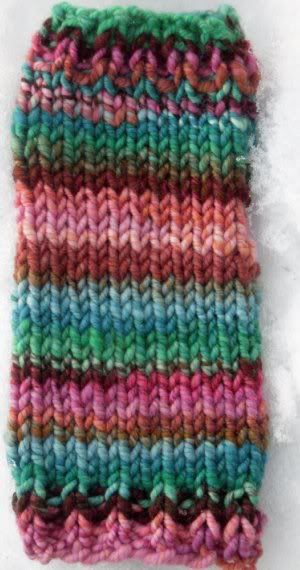 I knit these up and figgered a pattern out for these beauties. They're going to be in a kit to match funky art yarn hats made with some of the same colorway but with coils & bumps & all things arsty as well. Can't find the pics of that yarn now to save my life. I'll have my daughter do a photo shoot with me soon and will see what you guys think of the sets! I'm going to be selling kits of my art yarns & patterns on the etsy shop and at
KITH
(Knitting in the Heartland), our big event in KC in March! Click
HERE
to get details. Here's the handspun yarn used for the wrist warmers.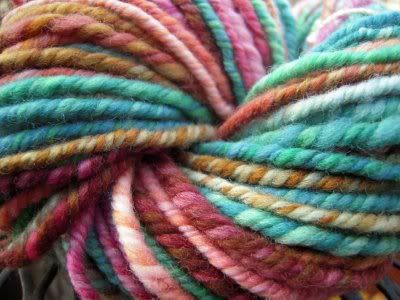 SO, drove my kid & another little boy to school this morning. After turning out of the school parking lot, I saw what looked like a dead hedgehog on the snow at the side of the road. You KNOW I had to do something, right? I parked the car, went over and kicked the poor dead critter back behind the snowbank so no one (MY HUSBAND) would see it and get any ideas. :) Smart, huh?
OH, and I have to tell you one more thing...my daughter was talking about the raccoon skin to a friend on the phone when Jeff stopped and said, "You know, back in the old days the Indian women would chew the skins to soften them up." *dead silence* Then I heard from the other room, "I KNOW!!!! I think I just threw up a little in my mouth TOO *teen aged screams*" I told her later to just think of our house like the Ingalls family from the Little House books. You know, Pa chopped the wood, the girls did the chores, Ma knitted the socks....