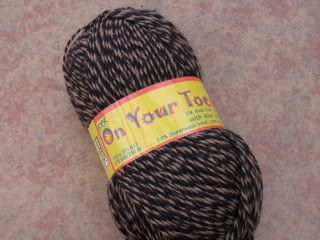 OK, so I said I never said I wasn't going to buy new yarn. I just said I was going to try to make it on the budget. In my defense, if this yarn works up like I hope it will, it's a hell of a shopping triumph. $12. TWELVE DOLLARS! It feels fabulous, has good squooshability, smells good. 75% superwash wool 25% nylon with Aloe Vera. One skein is supposed to be enough for one pair of men's boot socks. Since Jeff seems to like the thicker yarn for socks and I'm sporting bags full of sock weight yarn, what's a girl to do? I'll probably actually swatch this stuff up. I don't think I've ever swatched for a sock. Ever. I just either frog it in process and reknit, or find someone to fit the sock I made, or usually my socks just magically fit. Of course, that's usually with sock weight yarns that I can usually guesstimate pretty well what size needles and how many to cast on, etc. What? MEASURE a foot? Swatch it? *sigh* I'm crossing over to the dark side of knitting, where you do things that make sense. I haven't decided if I'll make these toe up, which would make the most sense of all, since I'm not sure how long of cuffs to make, but that's really pushing it for me. We'll see. Twelve dollars plus sales tax? Absolutley the cheapest I've ever gotten out of a yarn shop.
Isn't this pretty yarn? Damn, I love Cascade 220. This is from the heathers line. I got 7 skeins on the day-after-Christmas sale at Knit Wit in Olathe. Shopping pre-budget, you know. It's going to become the Laced-Front Sweater from
Knitting Lingerie Style
. A butt-load of ribbing, but it is so pretty I can't help myself. The dreamweaver link of this book has good pics of the book's projects. The one I'm making is the grey laced-up sweater leaning against a yellow background.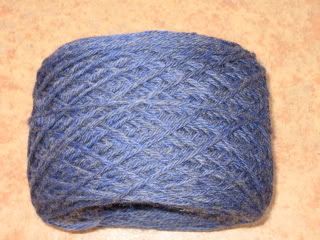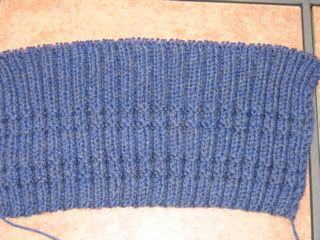 Does it totally cancel out the goodness of drinking the slim-fast ultimate no-hunger stuff if you have to mix a couple massive squirts of hershey's chocolate syrup in there? Is there any flavor that doesn't taste like fake-chocolate-flavored dog barf? I'm not going crazy with the whole weight loss thing this time around, I'm just trying to whittle down those thighs if I'm going to be getting married on a boat and wearing a bikini for a honeymoon. I figure if I can drink that crap in the morning and eat normal food at night I should be ok. Of course, that means avoiding those damn Crispy Creme donuts at the Knitting meetings. Oh and those damn chocolate chip cookies. Maybe I'll bring a veggie tray instead of McDs' next time. It looks like the official date is moving from February to late-April or early-May. We're still trying to work out the legalities of getting married in the Bahamas on Jeff's uncle's boat.