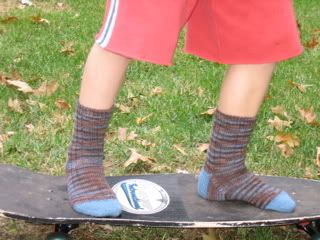 It fits. It freaking fits. Can you believe it? Survived the boyfriend sweater. So far. The picture sucks because the weather around here has been cloudy and rainy whenever we've had the time to take the picture. Jeff wanted to wait and take an artsy photo with trees and leaves in the background, I got tired of waiting and wanted a damn picture. Hence in the dark on the back porch. Ah well. Artsy will follow later.
Specs:
Pattern...Manly Maze from
No Sheep for You
Yarn: Rowan Calmer 2 1/2 balls more than yardage calculated originally. (Thank God for yarn shops and knitters on Ravelry)
Needles: sz 7's and 5's circs and dpns
Started: May 2007, knit away until the sleeves, got bored, quit knitting until the first cooler weather arrived, started again, realized I was running out of yarn, freaked out, begged, borrowed and bought more yarn in the same dye lot, finished the motherbugger.
I think it may even be a sweater worn in public and not just an around-the-house kind of sweater. It rocks. After I danced the holy-shit-I-finished-it dance (much thrusting and jazz hands may or may not have been involved here) I got such a feeling of accomplishment that I felt like the best knitter in the world. I highly recommend fininishing a fitting sweater. It's a good thing.
I sat down and finished Joey's blue toed socks, which turned out so cool they had to be renamed. They're now the Sk8er Boy socks.
Specs:
Pattern: my own derived from bits from about 5 other patterns I like. CO 60 stitches on 3X1 ribbing with slip stitch heel.
Yarn: Lorna's Laces one ball of Pioneer and one half ball of denim
Needles: sz 1.5 dpns
Started and Finished: September 2007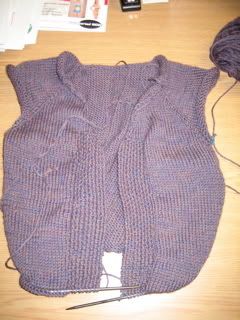 I haven't actually finished this one yet, but I have cranked out a lot of knitting on it. It's actually got almost one sleeve done from yesterday and today but I didn't want to take another picture since it's not too exciting yet. I'm hoping to finish it soon and put it away for my daughter's birthday. Cascade 220 rocks.