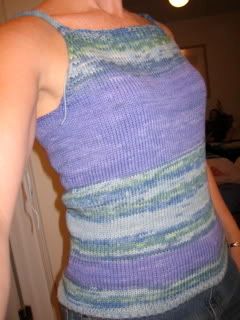 I didn't realize it was getting so bad until I started organizing my finished objects pics on my flickr account. Holy crap. One or two shots from that angle look artsy. Two or three could be flattering and even make me look like I have a chest. But, seriously, after clicking through about 12 shots of my pits at the center of various knitted objects is enough to make anyone sick! I swear by all that is knitterly that I WILL find out how to use my damn timer on the digital camera. sheesh.
Anyway, I pulled out this chickami that had been victim to bad colorpooling and frogged it back to the end of the purple stripe (about 5 inches), did some fancy schmancy reworking of the yarn and now have a finished object that I will actually WEAR. Ok, so probably not any time soon since it's getting chilly and winter's on its way, but it's done! So instead of doing a round from each ball of yarn or something else that you're supposed to do to avoid bad colorpooling, I just MADE it stay purple long enough to cover the girls by hacking off any and all purple from the ends of each ball of leftover yarn and then let it go all colorwonky like it wanted to. The back totally doesn't match and I don't even care. It's artsy. Just like the pit shot.
Specs:
Pattern:
Chicakmi
Yarn: Ty Dy from Knit One Crochet Too
Needles: 3's and 6's
THANK YOU THANK YOU THANK YOU for all your excitedness for me on the whole getting married thing! I'm still just happy as heck. Also how sweet is my dear friend
Chery
? She's making me a wedding shawl to wear over a sundress for the wedding. We're doing a very simple ceremony without a lot of fuss, so that made me feel so good to know I'll have this special, beautiful thing to wear. Then, every time I look at it in the future, I'll remember both the day and the sweet woman who made it for me.
The neatest thing happened while I was in
MisKnits
on Saturday to show my knitting friends the new ring! Tracey came up and introduced herself and her very sweet family. It turns out she's a knitter that bought a bunch of my noro kureyon yarn back on the destash blog. She was shopping with her husband and adorable daughter and HAD a felted bag that she made from that very yarn WITH HER!! How cool is that?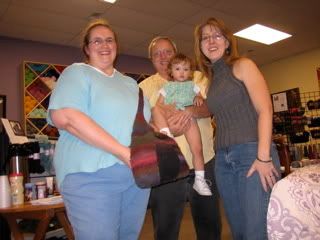 Since I've not posted much lately, here's the pics from the Bed & Breakfast weekend with Jeff. We went to
Council Grove, KS
and stayed at the
Cottage House Bed & Breakfast
in their anniversary suite. It was such an amazing weekend. We saw every one of the 23 historical sites and even went out south of town to go hike around the wilderness on a beautiful Kansa tribe trail being created. We also took every backroad we found on the way there and back, so really saw some beautiful country. On the last shot, you really need the audio. I was running through this grass that was up around my knees and shouting "PLEASE DON'T EAT ME SNAKES!! PLEASE DON'T EAT ME SNAKES!!" as we'd disturbed one sunning itself earlier on the hike and since the man I'm now marrying doesn't seem to be able to keep on any trails as marked to save his life, we go through the scenic route everywhere we go. No snakes got me, no ticks either *whew* and I survived the hour and a half hike and even peed outdoors without any unpleasantness. It was a good day for me in the outdoors.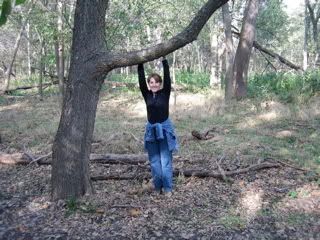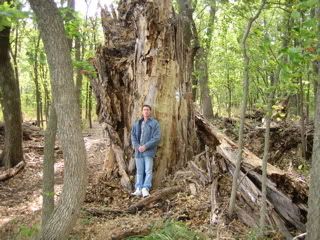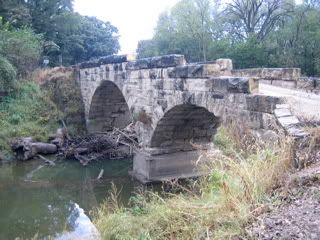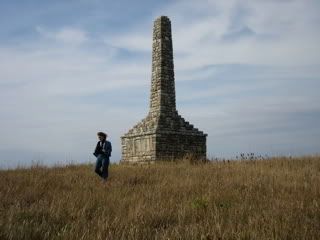 Of course I'm starting more sweaters than I can possibly complete, but I can't help it. The fall weather gets in my blood and I have to start knitting sweaters. More and more sweaters! I cast on and went to town on the start of
Glee
with some knitpicks Andean Treasure 100% Baby Alpaca lilac yarn that I am recycling from my frogged somewhat cowl that turned out with freakishly long armholes (I must have lost my mind in the middle of the raglan increases and just never stopped). I've already gotten about 2 inches below the sleeve stitches and am excited to see how it turns out. I won't post a picture as it looks like every other just-started raglan sweater.
I'm off to hide from reality a while and knit away for an hour while listening to some Harry Potter on CD. I'm now working my way through listening to the audio books and have just started book 6. Too many people wanting too much from me today...work, schools, laundry, gardening, work, phone calls to return, etc. I'm gonna hide and knit for an hour.