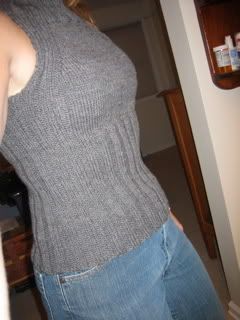 KPB, just say no. I pulled out the lovely tank, knitted another four inches of it and it still is just past the waist, but in a comforting, fitting way. I freaking LOVE this sweater now. I'm wearing it on Sunday to Jeff's grandpa's big family birthday party with my hair up and some seriously dangly silver earrings and a bangle or two. LOVING this with jeans. I'd knit it up originally in April 07, used every ounce of the 2 balls of cascade I'd had and it just almost came to my waist. It looked very sexy as long as I stayed STANDING UP. From now on I'm doing the sit down KPB test on every stinking sweater I make. I stand, measure, admire, then SIT MY ASS DOWN and in a normal fashion, not sitting primly upright like I never do in real life, just when I'm trying on a sweater to see if I can stop knitting it yet. Having a small waist and not so small lower body makes for the lovely extra bagginess at the back of the jeans. Not a problem unless you are wearing a top that stops just ABOVE the gap. One little slump or lean in any direction and it was seriously not a good look for a 39 yr old woman. Now I can sit and wiggle around and slump and slouch and LIVE in this thing.
Specs: Pattern from Stephanie Japel's fabulous book Fitted Knits, Perfect Periwinkle Turtleneck Tube Vest, size XS (I got a little smaller gauge on sz 6 & 9 needles with Cascade 220 and went ahead and knit it up to get a smaller than the S size. (no boobies means a lot less yarn is used, who'd of thought there was a perk to having a size half A cup chest?) Total of 2.25 balls of cascade for a sweater? (not having sleeves also helps!)
I've unraveled SIX INCHES from each of my sleeves on the simple knitted bodice and am hoping to add the leftover yarn on the waistline to AGAIN make the waist a bit longer. Anyone see a pattern here? Cripes. I figure as soon as I think I'm done knitting something I will just automatically knit 4 inches more. It is looking good and should be wearable by the weekend also. I'm getting ready for the cool weather! Bring it on, baby!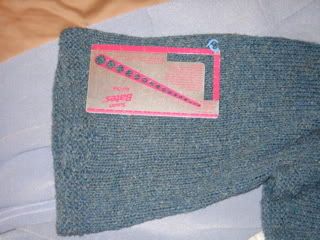 Also, I finished my aunt Dot's socks and got them in the mail! WOO HOO! Now both ends of her will be cozy in knitted loverliness. I had SO MUCH yarn left over. MAN those crafty in a good way skeins have a buttload of yarn. I could've made full length legs on them. Ah well. I'll probably make a baby hat out of the rest of it. Regular old 3X1 ribbing with my traditional slip stitch heel and kitchenered toe.