Ennea Collective
New issue of the Ennea Collective is up! It's a pretty issue, theme is Naturally Celtic. It's got some sweet knitting patterns in it plus some spinning articles too. I'm thinking those celtic knot fingerless mitts may be calling my name.....
Still knitting away on my Whispy Cardigan. It's got a LOT of stockinette, in laceweight yarn. You really get your money's worth when knitting with lace yarn.
When good yarns go bad.....
Anyone remember my Elizabeth Zimmermann's Pie Shawl? The one with the
unfortunate appendage
? That yarn was just doomed. While I HAD TO HAVE IT NOW NOW NOW when I saw it at a Knitting in the Heartland vendor market a few years back, once I knit it up, it was just not meant to be. I actually thought it was hideously ugly (even without the appendage).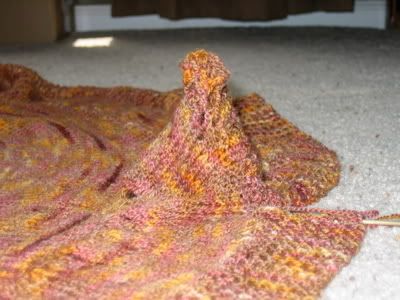 Well, when life (or your totally unstoppable urge to BUY YARN NOW) gives you ugly yarn, make it beautiful!!! I frogged the shawl, reskeined the yarn, soaked it, then put it in timeout for a few years. The other day I stumbled upon it in the stash. It's lovely merino wool, soft, fluffy and squooshy. It shouldn't be stuck in the back of the stash. I overdyed it with a deep forest green and VOILA! I'm now enjoying knitting this into a cardigan that will be worn all summer long!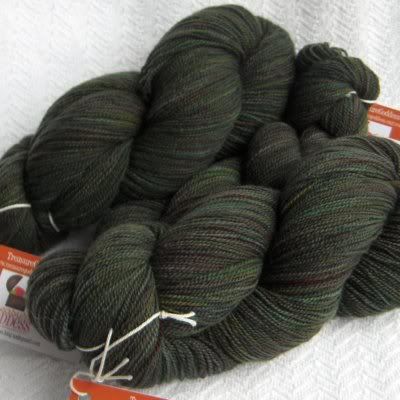 If you find yourself with some ugly yarn, think of a way to give it new life. Either find someone that thinks it's beautiful and make a lovely gift of it or overdye it into another color that you love! If you've not got a dye lab on your back porch, find a friend that does. OR mix up some kool aid dyes. Have some fun. Enjoy your yarn!