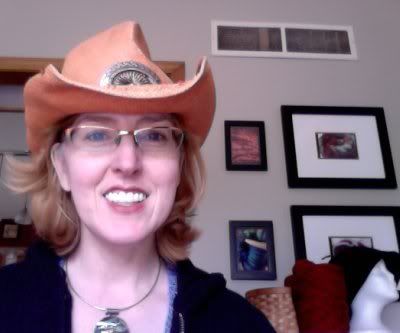 The TreasureGoddess Hat

This is the hat I wear while teaching classes on techniques for knitting with art yarn, I also wear it while selling my handspun yarns & fibers at events, and 99% of the time at the lake when I'm relaxing during the summer. It's hard to believe, but this was once an expensive, high quality handmade hat bought at a fancy schamcy hat shop in Cabos, Mexico. I used to think I should've just got a hat off a corner vendor for $10, but I'm sure it wouldn't have taken the abuse this poor, gorgeously ORANGE hat has gone through. I've dyed, spun and knit some amazing fibers while wearing this hat!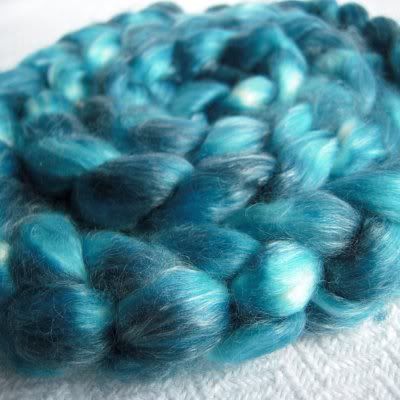 Then I went to Mopaca this March, an amazing alpaca festival, complete with the critters themselves AND people selling their fiber. The only issue is I went on the day BEFORE it was actually open to the public due to an error on their website. It saved me money as two years ago when I went I bought an obscene amount of alpaca. BUT there happened to be a cowboy hat stand setting up as I wandered through the building... I ended up with TWO hats. For no reason other than the belonged on my head. Little did I know one would end up being JUST THE HAT for my new occupation!!!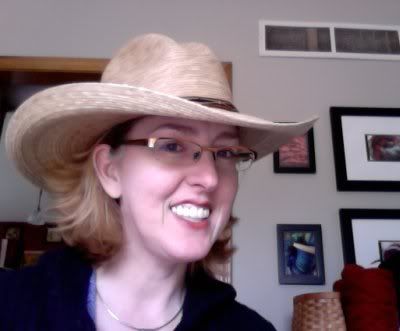 Chicken Herding Hat

Yes, chicken herding. When I came home from my lovely fiber weekend at KAWS, I found the boys smiling. Standing there smiling. BIG SMILES at me. It freaked me out. Then I walked inside and heard "tweet tweet tweet chirp chirp chirp". The man had brought home a box full of 6 little balls of yellow fluff. 6 cute little poop factories. (First photo is 2 weeks old and the other is 3 weeks old, just taken today.)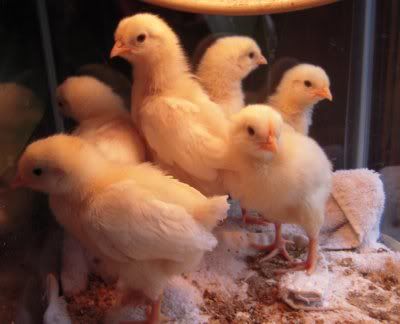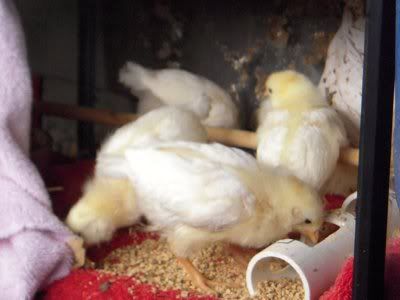 Yes, we DO live in the middle of the city. No, chickens are NOT approved by our city or homes association. Yes, I am actually HERDING them as they're sort-of contained in a shelter under our porch, which gets good light, shelter from the elements and predators. I take them outside to scratch & peck and free range poop. They are able to crawl/hop/short flight around and then go back into their little pen with food & water & such. They are truly crapping machines. Yet another reason why I don't want my own alpacas. Just think how much poop those things would make!!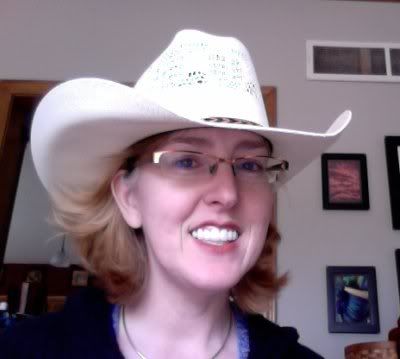 My goin-out fancy schmancy cowgirl hat, if I ever actually went out anywhere (also bought at mopaca)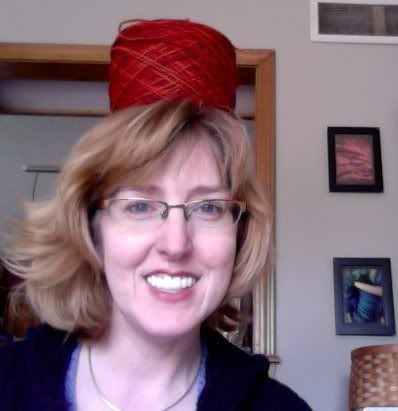 My Knitter Hat
Ok, I admit this one was a bit much, but hey, my new excitement is hanging out with little chickens. See how much I need to go out and USE my goin-out fancy hat?
As actual proof that I am still a knitter, I started
Whispy Cardi
out of some of my own hand dyed merino wool lace yarn. The colors are most true in the photo of the skeins, but the closeup of knitting shows how there's a lot goin' on in that deep dark green yarn. So far, so good. I HAD to knit this after falling in love with
See Jo Knit's
amazing
Featherweight Cardigan
by the same designer, Hannah Fetig.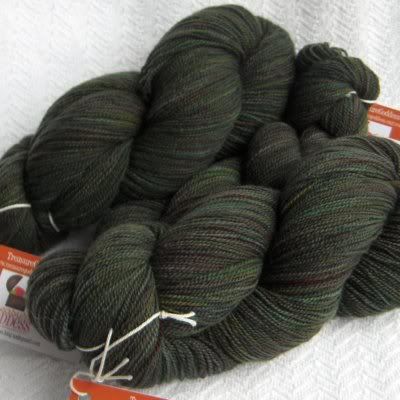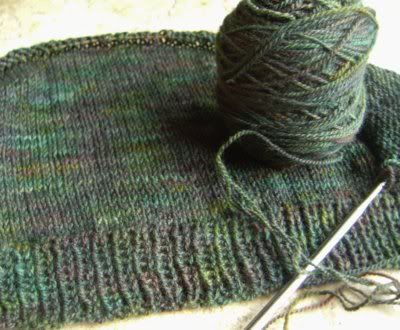 I'm getting used to this not working in the real world any longer thing. I have to say, it's an adventure and I freaking LOVE it. I'm still looking for a real job, just hoping that it'll not have to start for a while yet.
AND of course my first real jobs are being a mom & a wife. But I'm not sticking any of them up on my head and taking a photo. I figure these hats & a ball of yarn will have to do for now.