Oh my holy heck, there are some GORGEOUS fall sockyarns out there!

Falling into Socks! Etsy Treasury
TWO of those are MINE! WOO HOO! Sorry for the self promotion, but I'm just so darned excited about the whole etsy selling thing! The most dangerous part of this etsy experiment is that I keep seeing so much stuff that I need! I'm just one step above a gollum-type creature sitting amongst all the yarn saying "MY PRECIOUS" and wanting it ALL! Anyway, cooler weather sure has me wanting to KNIT MORE STUFF! How about you?
The whole idea of knitting my husband a weeks' worth of socks has hit a snag. Apparently his idea of "long socks" and mine were VERY DIFFERENT. INCHES AND INCHES different. Basically each leg part has enough stitches to count for an entire normal-sized adult male sock. *sigh* Looks like I'll be knitting dark grey/black tubes FOREVER. I'm hoping to get TWO pairs done for him. It's really hard because I'm being tempted by my own stash of sockyarn calling my name, the stuff coming out my back porch dye lab AND all the goodies I see daily on etsy. Must. Be. Strong. Resist. Buying. It. ALL...........my precious.....gollum, gollum, my precious....
OK, enough of that. Please go click her treasury link. Those ought to inspire you to go dig some wool out of your own stash or make room in the stash for a new precious skein or two. Remember SOCK YARN DOESN'T COUNT as stash enhancement. Especially autumn sock yarn!
Pulled this cabled sweater-to-be UFO out of the trunk. The cool weather gets me ready to KNIT! It took me a while to re-figure out where I was in the pattern. In the last 3 days I've knit the right front to match this back. Just cast on for the left front last night. Then there's just sleeves and the hood. Although, it would look adorable as a sleeveless hoodie, you know?
Pattern:
Cassidy
by Bonne Marie Burns
Yarn: Cascade 220 in heathery green I LOVE CASCADE 220!!!!!
Needles: sz 5 and 7 plus cable needle on this necklace thing that I also love
Here's the latest batch of goodies soon to be on etsy. I have to thank all my friends both local and blog-friends! I ended up selling almost all the last batch of fiber before I even got it posted on etsy! This last batch I saved a little bit for myself too.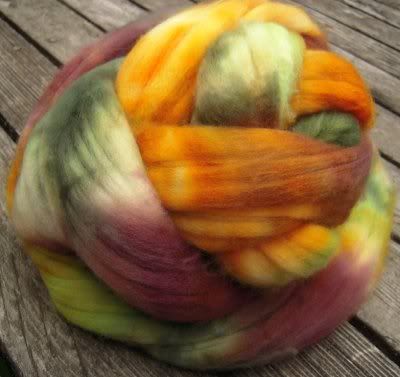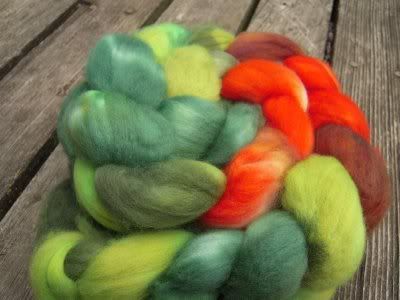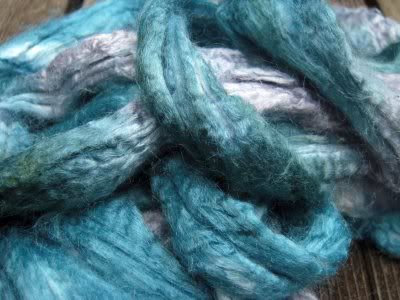 That last one is silk roving and soooooooo yummy. I love my back porch dye lab!