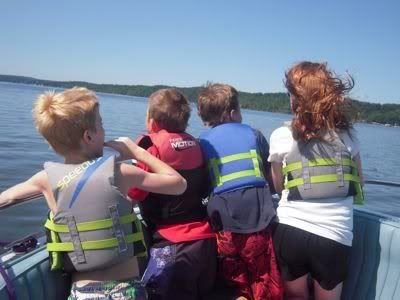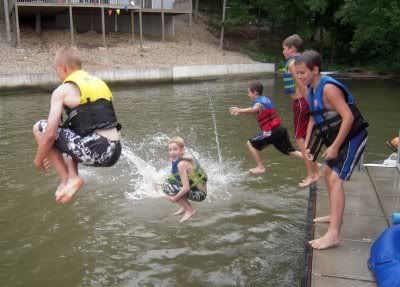 We took a vacation for about 10 days at our lake place at the end of July. While admiring the views above, I spun yarn, dyed fiber, knit, knit, knit and sewed down little petals and TONS of ends...COTTON ends on this hat.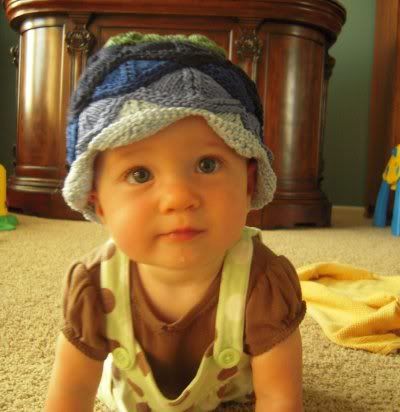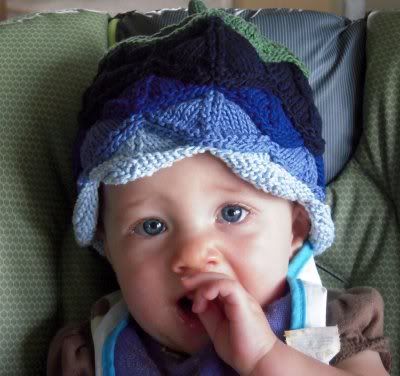 The hat kit was bought at a now closed LYS (in Louisburg, KS) on one of the
Sunflower Knitters Guild
yarn crawls. It is the most adorable hat. It was COTTON. Worsted weight cotton. I am not a fan of cotton. Now, the knitting of this was enjoyable and I finished in about two days almost a YEAR ago. The ends. Oh, the ends. You can't just weave cotton ends in willy nilly, they're cotton. Wool ends can be woven in and snipped easy peasy wooly squeasy. Cotton ends will come out in the wash when given to a non-knitter. (Hell, they'll probably come out if given to a knitter too, who'm I to be all prejudiced?) SO they must be woven in and sewn THROUGH strands in different directions. Did I mention it was WORSTED WEIGHT? Weaving something that heavy back & forth would make these strange bumpy lumpies all over the hat. (Tried it, unwove and rewove.) SO you get to split the strands and THEN weave them and sew them into each other and such. SO, for each color, there were FOUR ends, split each in half and you get EIGHT. The construction, while very cool, meant extra ends. Then because the petals were curling so bad it looked less like a flowery hat and more like a colorful case of leprosy, it meant EVEN MORE COTTON WORSTED WEIGHT ENDS as I had to tack down the ends of the petals. Good thing she's cute, huh?
Well, I knew I'd never finish the thing without serious time and effort, so I set myself the task of finishing each and every bit of the hat before any knitting, spinning, dying or drinking of beers on the lake vacation. I think it'd be a lovely hat to make again, but next time in superwash WOOL!
I was so proud to have this hat completed that I just handed it over to my little niece at our lake family reunion at the end of our vacation time. NO PICTURES WERE TAKEN. What was I thinking? SO, when I got the opportunity to babysit for the little one last night, I kinneared her. OK, first I had to peek into her closet and all her drawers to find it and had a baby photo shoot. (Sure hope my brother doesn't have one of those teddy bears with the hidden camera or I'll have some splaining to do!)
It went like this.....
Put hat on baby's head. Crawl backwards quickly to take photo. Crawl forward to put hat BACK on baby's head. Again try the lean out for angle, while baby is FLYING on her hands & knees, giggling and diving out of camera range while pulling hat off to chew on. Rinse and repeat. I finally figured the best strategy would be to strap her down (in her high chair) and distract her with food. She is able to chew on two big teething crackers, one in each hand and STILL rip the hat from the head, so these shots were all there were before I would have had to take the hat back home to launder. She is adorable. And the attitude in that little one? Reminds me of my own girl many years ago. This cutie is totally cotton-end-sewing-angst worthy.