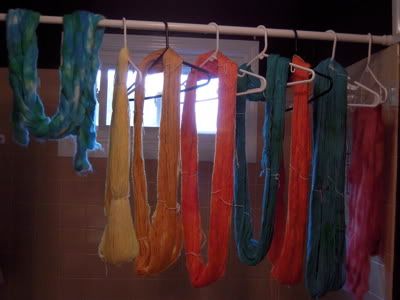 Husband was wandering around half-asleep this morning. I didn't pay any attention. While brushing my teeth, I heard this "WOW! COUGH COUGH COUGH GASSSSSSSPPPPPPPPP!" coming from the guest bathroom down the hall. He's rather dramatic from time to time, so I kept brushing my teeth. When he stumbled into the bedroom again he fell on the bed and said, "WOW, that was like taking a crap inside a box of Trix!" I think toothpaste may have actually come out of my nose.
NOTE TO SELF: Buy a drying rack for use in screened-in porch or dining room.
It's been a while since the last CYG sighting, so if skies are clear, I'll do a photo-shoot Friday post tomorrow. There is some serous kettle-dyed action going on in some of these yarns. I bought a TON of kool-aid, used A TON AND A HALF dying, and bought a new crockpot. At one point I had microwave humming, three casserole dishes of fiber and yarn waiting for cooking, and THREE crockpots going. Husband was a bit perturbed that with all the sounds of the wife in the kitchen there was no sign of food. I sent him up to have sole power over the remote control with a bag of chips and bowl of salsa and cooked all night long. Good times.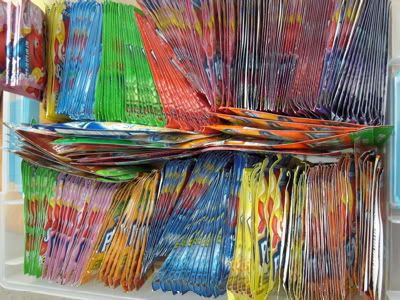 "Like taking a crap inside a box of Trix." *snort* You know, it really must have been. Window is now open, ceiling fan cranking and door closed. Husband and step-sons have been banned from the use of said bathroom until fiber is removed tonight.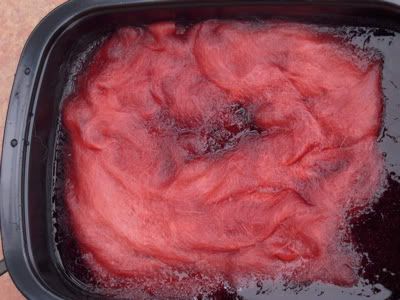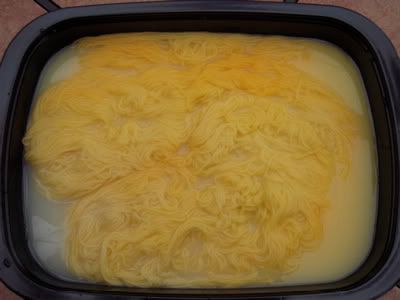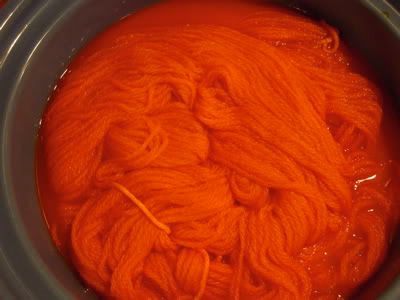 Some of the yarn is a gift from my aunt. She is cleaning out boxes she's had since time began. OK, since before MY time began. She brought over a ton of acrylic that I've aired out on the back porch and will donate to a local senior center that I know takes donated yarn. AND buried in the boxes and bags, were these skeins of wool yarn that were OLDER THAN I AM (and I'm 40!). They feel like you'd expect, a bit rough, and the colors were less than desirable. Now, they've got a future as some felted bags and hats and slippers! Can't wait to get my hands on the rest of it.
But first, I need to buy more kool aid and a drying rack. Wonder if my kitchen could handle a few more crockpots? They're on sale at Target! 5 1/2 quart for $24.95.......