EVERYBODY SING ALONG! (to the Tune of the Artist Formerly known as Prince, oh wait, he's Prince again....Raspberry Beret) She dyed with Raspberry kool aid...........the kind you buy at the grocery store......Raspberry Kool Aid......and when she was done, she went and bought some more........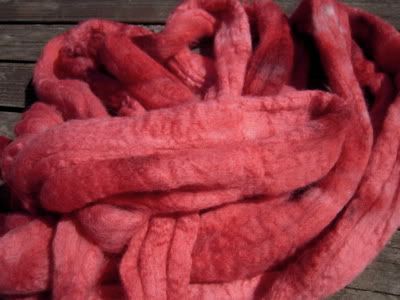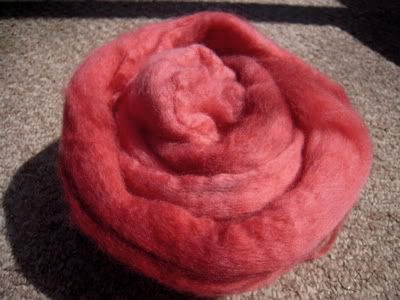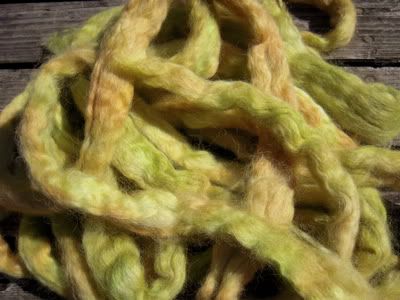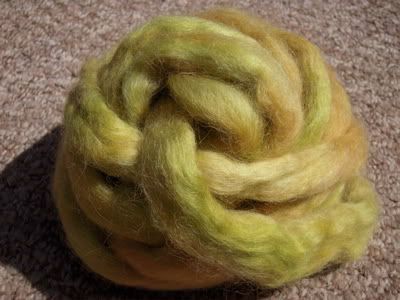 OK, it wasn't actually Raspberry Kool Aid, more of chery, cherry, grape, strawberry and pink lemonade. Isn't it purty? The olive green one was a masterpiece of who-knows how many lemon-limes, lemonade and some orange that was so old I actually had to pound on the packet with the salt shaker to break up the chunks of petrified rock into powder again. I DID make a mess, how did you guess?
It's part of my supplies for a spinning adventure class with
Insubordiknit
at the
Studio
here in KC. Not sure if any seats are left, but it should be really neat! If you've not got anything going on, call the Studio and see if you can still get in! I waited until the last minute to see what I had to bring, saw I needed fiber. I had some undyed goodness left over from last fall's
Yarn School
, I had some kool aid, and I have 2 crockpots. Many shakes of old gatorade bottles later, I have some seriously cool fiber.
I think the family is a bit tired of hearing me wander about the house making them SMELL the fiber (fruity!) and OOOh and AAAHH when I say "Can you believe I MADE THIS?" "Really." " I. MADE. This." Last night they each had a friend over and I overheard Joey telling both kids outside "OK, when mom brings you this yarn stuff, just tell her it's cool and she'll leave you alone. OK?"
Those few times that my high tech dying process (basically throw some of this there...then maybe that...what happens when I add this here? Oh!) actually WORKS is amazing. I have made some truly horrid things. I have even knit a few of them up into horrid knitted things. But once in a while I make something amazing. Something that takes my breath away. The power of creation is a wondrous thing to behold. Yeah. I was almost as proud of the fiber as I was of making a child. Yeah. I really need to get out more and get a grip on myself. But at least I have fabulous, fruity fiber (and fabulous Weasley children to boot).
And because I still can't get over my love affair of all things kool aid, I think we need to revisit the kool-aid dyed sockyarn. I've decided that it's the exact colors of the Sea of Abaco when Jeff & I went on our honeymoon. I will be ordering more undyed sockyarn and trying this experiment again. I'm so in love with these socks. I'm on the heel flap of sock #2. SO. In. Love.