You'd think I'd learned by now, huh? I can't even begin to list the patterns I THINK I have memorized. I'm just not that with-it. As soon as I do something goes very wrong.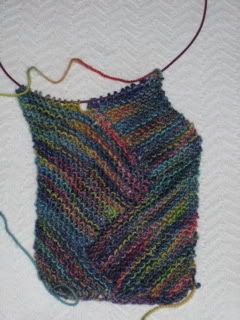 Yes, my multi-directional scarf began taking on a whole new direction. It's not supposed to be making a left turn there, nope. It's supposed to be rectangular. Frogged and started over, and am READING the damn pattern as I go this time. Pattern:
Zigzag Modular Scarf
by Iris Schreier. Yarn: leftover sockyarn! I'm going to use up my extra bits and think this should be a neat pattern. I'm using fingering weight, mostly koigu, mediumweight Socks that Rock, lorna's laces sock yarn, opal, crafty in a good way and whatever else I pull out of the bag o' ends. I'm using size 7 circs as stated for the pattern even though the pattern's written for medium weight variagated (worsted?) it's looking pretty damn good. Here's the 2nd try: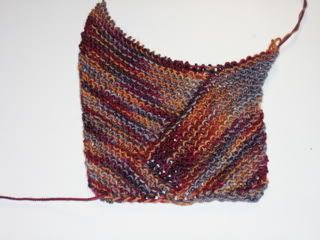 Startitis anyone? I'm growing rather amazed at just how much yarn I have just SITTING there. Good yarn, often expensive yarn. Just sitting. I've been ravelry-ing my ass off and coming up with good ideas to use up a bit of the stash. Started the linen lace-back tank top from No Sheep For You and also the
Very Berry T Shirt
from Magknits for Elizabeth using some cotton/wood blend I got from the new MisKnits store.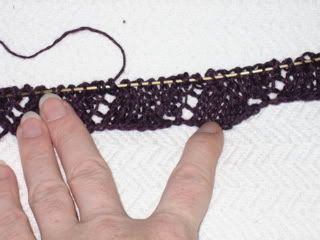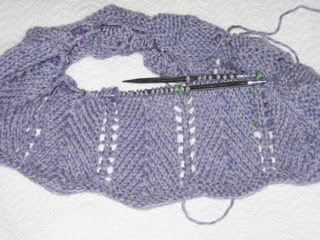 I'm also counting down the days until school starts again, can I get a WOOO HOOOOO? Oh man. I may have to make myself a pitcher of mimosas and celebrate.
We're heading out for Branson, MO with the whole Brady Bunch crew. Jeff's two plus my two plus us all crammed into a Ford Taurus ("he's touching me! She's touching me!" repeat.) yes, Thank God for ipods. I plan on plugging mine in and not unplugging them until I'm at least 3 feet away from the nearest short person. I do like children, really I do. Just not all four all together in vacation-crazy mode. Then after Branson for a couple of days we're headed to Jeff's lake house (quite small but rustic and quite nice) for a family fest with our Brady bunch, Jeff's folks and his sister and her hubby and two kids. Yeah. I know, don't you wanna be there too? Did I tell you the only air conditioner is one that plugs into ONE window and sometimes doesn't really cool anything? I'm thinking of rigging up a floaty system where I can knit IN the lake. I'm not sure I have sturdy enough yarn that wouldn't be all stained or smelly or ruined by some splashing. What's that? Knit with crap yarn since I'll be in tube-top-wearin' white trash heaven? Hey, even white trash momma's can knit a little koigu, right? I think I'll pull out some mountain colors barefoot again. That's pretty tough stuff.