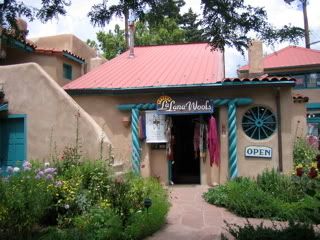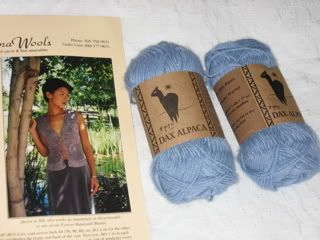 Oh I had a great day. A long, tiring day, but a great one. I'm all proud of myself. I went on an adventure all by myself. Yeah for me. :) I have no problem hanging out by myself, I enjoy the solitude once in a while. A day of shopping, or a dinner out is great. Driving across the country by myself was freaking me out. I almost turned back at Santa Fe. What if I got a flat tire? I kept seeing these vehicles on the side of the road. FREAKING me out. Then I got into the mountainous areas and kept seeing those big ass boulders and rock slides up against the edge of the road. Only slightly nervous since there were those net things holding most of them back, and would hopefully catch any that started. No worries. Until the netting ran out and the mountains got closer to the road. Then these signs kept appearing almost as often as the No Passing signs. nice. I must admit I had a repeating prayer each time I saw one. "Dear Lord, please don't let me get squished like a bug, Amen."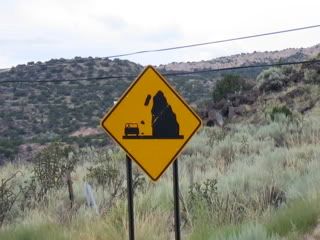 I made it to Taos, stopping along the way to see a few museums and buy some ground up red chili to take home. I spent about 3 hours wandering around the shops and had a great time petting and admiring the yarns in
La Lana Wools
. I ended up getting 2 skeins of light blue local alpaca yarn (which came with a free hat pattern) and a pattern for a very classy/sexy silk vest. I priced the yarn and even if I bought only the number of skeins the pattern recommended for the XS size, it would have cost me $90. It's tiny. Yeah. I figured $15 for the pattern was enough of a splurge for me. I then had the lunch of a lifetime at Michael's Restaurant for about $6 and am STILL FULL and it's 10:20pm. If you travel to Taos, you've GOT to eat there. I had a bean burrito smothered in red chili and it was so freaking good. MAN I miss the food back here. (I used to live outside of Alb. for a couple of years when I was first married about 14 years ago.) The Jaywalker got a little longer on this trip up to the mountains. I'm turning the heel tonight on the first one and it's really looking good.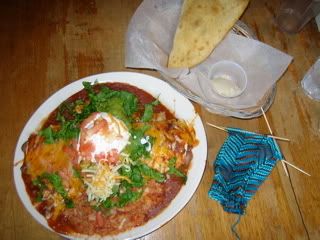 After a VERY long nap yesterday afternoon, I drove to
Village Wools
in Albuquerque. It's got a new location on the east side of town and has such a pretty view. It's HUGE inside now. I wandered but really wasn't tempted by too much only because I was saving my money for Taos. I did find a skein of the purple yarn I made the roses tank top out of. I wasn't able to make the beautiful roses that go up the front of it as I was short on yarn. I'd ordered another skein from the Studio but they never got in my color. $10 for that. I'm excited to finish that project officially. I also picked up a Dale of Norway pattern booklet with kids sweater patterns that look like a good start for some projects for my kids.
Then I went out to the world's coolest spot for the Albuquerque Knit Night, this coffee shop/restaurant/pastry place that was just a great spot. You could have a decent priced meal that tasted heavenly, artsy fartsy or plain old hamburgers & fries, Sam Adams beer and a couple of wines also, a great patio to sit out at and it just rocked. If we had a spot like that for our KC Tues crew, we'd have knit night every night. Here's the sign from their Harry Potter book night. I instantly was in love with the place before I even went inside.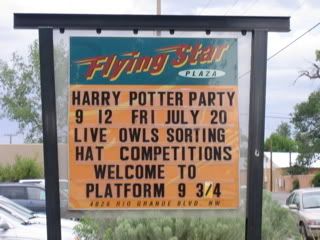 I had a great time. The ladies that were there welcomed me right in and I think I was there for at least 4 hours. How can you not bond with women that love the fiber? It was amazing. You can go to any part of the world, sit down with people that share this obsession with knitting and crocheting and connect. It really is an amazing thing. There were some seriously beautiful socks in process, including one pair that was CROCHETED with cascade fixation. One lady brought out quite possibly the cutest toddler sock I'd ever seen in my life. I was totally fondling strangers' yarn and it was a normal thing. HOW COOL IS THAT?
This restaurant just cracked me up. I mean, when I think of family outings, I guess I never thought of combining family with TAQUILA! God, I love New Mexico.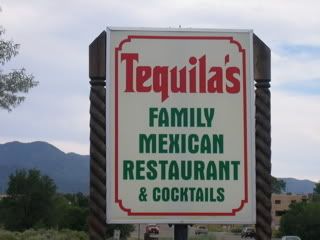 A few more random pics. We head out tomorrow. It's a good thing I'm not this close to these shops very damn often. The amount of local or at least NM and Colorado fibers that are hand spun or hand dyed or just grown local are so tempting. SOoooooooo tempting.