I'm going through my projects and stash, finding yarn you didn't know you had is like Christmas all over again! I cast on for yet another project. It must be, oh a WEEK since starting the last. I don't kow how I contained myself this long. Adult ADD Knitter anyone? yes very much, thank you.

Cast on for this one last night and knit the first ball. Pure & Simple's Neck Down Hooded Tunic for Women with stash yarn. I've got 10 balls of Teseo grey/black/blue yarn and it calls for 1010 yards, which will be close since each ball only has about 98 yards. Hope the thing won't have to be knit without the hood or with short sleeves.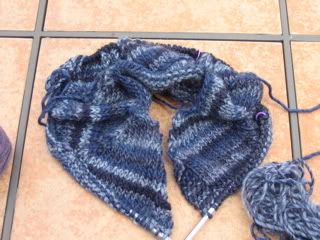 I was trying to drop into
ravelry
and add a few things, but apparently the rest of you slackers were all ravelry-ing while you should have been working and it was making my pictures load slower! I was
ravelry-ing my ass off
working diligently as usual. Did you know you can put your books on a bookshelf there too? ooooooooohhhhhh I'm gonna take my laptop along on the vacation and spend some time updating completed projects in there next week.
And, didn't you know it, but my little addiction to the free bags at the makeup counters is finally paying off! This is my organizational system for double points and circular needles. Bags courtesy of Bare Escentuals and Clinique. Love that!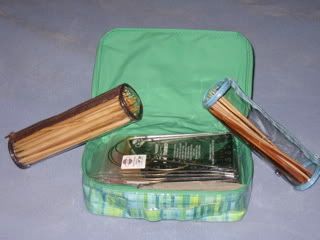 The three noisemakers and I took a trip to a bowling alley yesterday and stopped off at the new Bass Pro Shop to run around and see what there was to see. Buffalo, Mountain Lions and Bears, Oh My!