We had a great trip. I ate so very, very well. I do miss the food out there and how really earthy everyone seems to be in the Southwest. Here's a shot from a lunch break on the drive home. We stopped at this little park in Minneola, KS and ate in the shade sitting on an old-time wooden merry-go-round. It's nice to have both my birds back in the nest.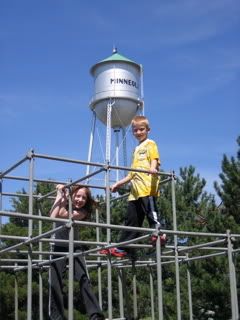 Finished Jaywalker sock #1 right after I got back, have to hand-wind the other skein of Artyarns Supermerino 4 and cast on the other sock. This really is a cool pattern. The backless mary janes I picked up at a Maurice's shop out at the Legends shopping center by the racetrack in KC, KS for $20. Love them. Can't wait until fall so I can wear them every day.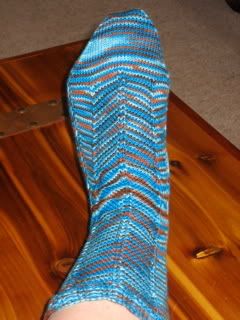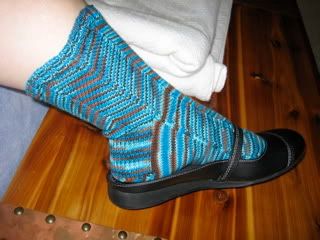 Tired, catching up on work, chasing kids, life as usual again. Heading out to knit with the girls tonight. My kids are going to my brother's house to swim at their neighborhood pool so I get to go KIDLESS! WOO HOO! You know, in the old days going topless was what the wild chicks do. Now I'm feeling like a wild child if I go to a coffee shop by myself. Knitters gone Wild!