Well, first of all, let me just say I WON'T be spending lots of money in the yarn shops now. Not very lucky at all. crap crap crap. Ah well.

In honor of my southwest trip, I pulled out this sock yarn to take along for the trip. After knitting about 2 inches of the cuff in my normal K3,P1 ribbing, it was looking icky. Frogged it and cast on again but this time in Grumperina's Jaywalkers design. I'm using Artyarns Supermerino 4 and size 1.5 dpns. I took myself out to Old Town this morning and bought a little jewelry, wandered around, people watched and then wandered into this old adobe church that was very cool inside. It was so peaceful and pretty (windows open and door open and outside was 85-90 but inside was lovely. I sat and knitted for a while and people watched in there too. Here's a few highlights of the day. How cool does this turquoise and brown yarn look with the adobe and turquoise accents in the architecture? Very. The rug is one that was in this amazingly beautiful (and unbelievably expensive) Peruvian clothing shop's dressing room. I tried on a $158 white cotton sundress that was sooooooooo pretty and sooooooooooo out of my price range. The rug was lusciously soft and cute as hell. Baby and momma llamas.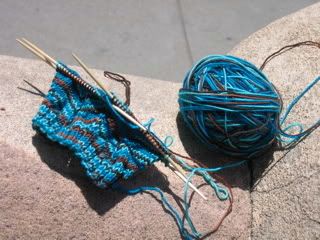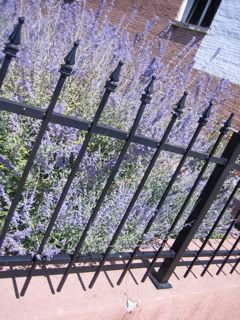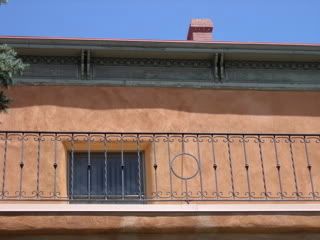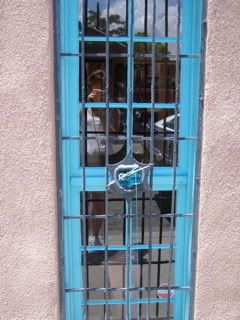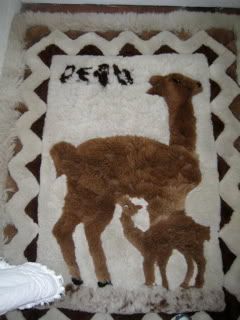 I'm back in the motel room for a little siesta, then off to Village Wools yarn shop and am going to meet up with some knitters for the Alb. Knit Night at a coffee shop. Tomorrow I'm heading to Santa Fe and Taos and anywhere else I wander to. I may even HIKE a little bit. Maybe. Jaywalkin' across NM.