So, NO KIDS, nice hotel room, NO KIDS, no boyfriend, NO KIDS and a plethora of yarn shops with unbelievable amounts of local hand-dyed, hand-spun luscious yarn. How could this not rock?

Dropped Joey off with the ex-hubby, hugged on my daughter, chatted with the ex-mother-in-law (who likes me ever so much better now that I'm not in the family) all about trading quilting patterns (to her) and knitting ones (to me).

I visited my first yarn shop of the trip (I'll have to wait until the way home to hit the Wichita, KS shop). Good Fibrations in Edgewood, NM (east of Albuquerque) and it was really REALLY nice. It's probably a good thing I don't live nearby. The classes, oh the spinning classes they have, the beautiful drop spindles and spinning wheels, THE YARN, neat little places to sit & knit and walking in the door felt like home. Oh, and the best thing? It's Christmas in July and everything in the store (except the big spinning wheels) is 20% off, ON SALE!!! I made it out under $50. I've got to pace myself. Even though vacation yarn doesn't count, it sure does decrease the funds needed to live on.

Spoils of the day are a skein of OnLine Supersocke 100 Sierra color sock yarn. 75% superwash wool, 25% polyamid. Very sqooshy and good manly colors, black with grey and red throughout. 3 skeins of the world's most heavenly fiber, also known as Drops (Garn Studios) Alpaca, 100% alpaca 50 grams, 180 meters each skein. I have no idea what kind of weight this is, it's not light enough to be laceweight, maybe fingering? Between fingering and dk? All I know is it's SOOOOOOFFFFFTTTTT and very pretty. It's a good thing there were only 3 skeins in the purple color. NO FREAKING IDEA what to make with it. I may just walk around rubbing it on my face. Or I could make a scarf.

I also grabbed 2 patterns, one for this cool meitered little bag and one for a scarf written for 2 skeins of the garn studios alpaca. I'll probably go wandering around the free patterns on Garn Studio Site and get ideas.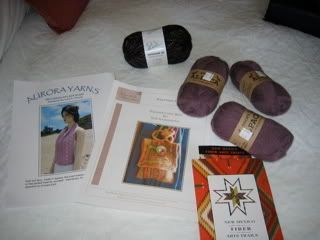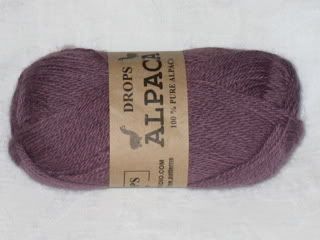 I promise to have actual NM pictures to post tomorrow. I got in kind of late this afternoon. Two and a half days left. I'm taking myself and a sock-in-progress out to dinner and then may have to head to a casino to play a little poker. I'm not wanting to spend too much $$ on gambling, that's YARN MONEY, but if I happen to hit a few good hands? Let's just say Taos may not have to be a look and drool only trip. Wish me luck!