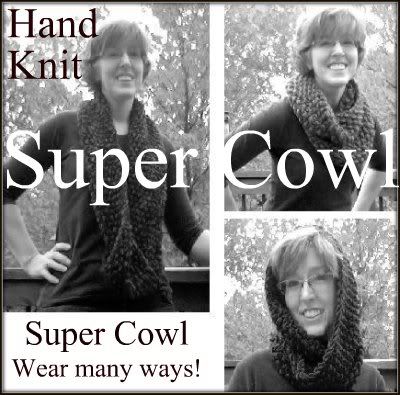 What's that? It's an infinity scarf.....it's a hood....it's a cowl.....NO, It's SUPER COWL!!! lah lah lah LLLLLAAAAAAHHHHHHH!
These are some fun and funky super cowls I created recently for the
Creative Hand Show
last weekend. Fabulous show!! You've GOT to put it on your calendar next year!! It's always the weekend before Thanksgiving and next year will be at the same location, the Old Shawnee Town Hall in Shawnee, KS (suburb of KC).
Here's a few color shots.... pay attention to the burgandy/red/brick one. It's the one that's going to be a GIVEAWAY! YAY!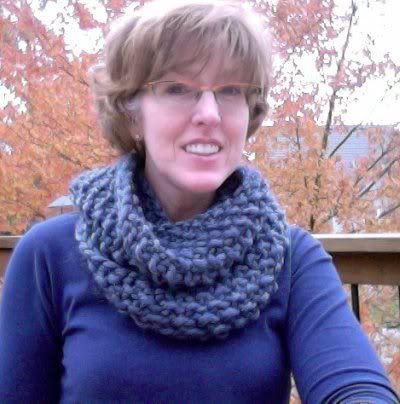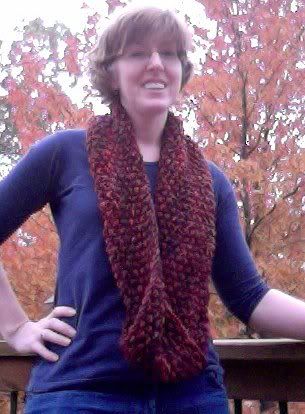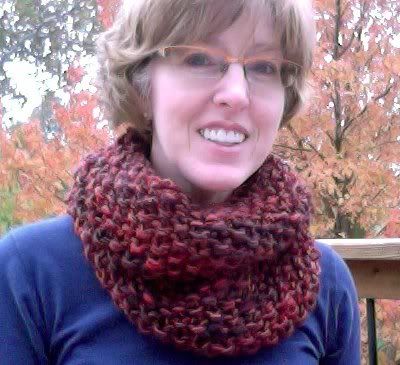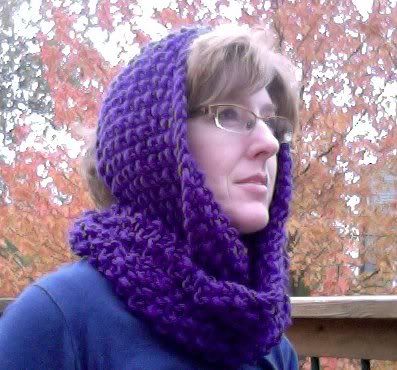 I sold two amazingly BIG cowls, not infinity long loops, but super tall super thick super funky thick & thin bumpy cowls and didn't even take a photo!!!! (I KNOW, can you believe it???) I'm going to have to make more of those. I also sold all the blue ones except one which I'm keeping for myself. I happen to have an extra of the burgandy/brick red cowl, which I'd like to share with someone out there in blogland!!! Leave a comment here on this post or make a comment on the
TreasureGoddess facebook page
and I'll add you to the drawing. I'll draw on Sunday night, 11/27 at 10pm central time.
If you're the winner, feel free to keep it as a present to yourself or send it to someone and cross one thing off your holiday knitting list. I'll have my kiddo do the drawing, he LOVES knitters! Also, my son is feeling GREAT!!! He has had a weekend of almost NO stomach pain. YAY! Thanks to all for the nice emails & rav msgs. I truly appreciate the good thoughts. It's nice to not worry about health for a while and just enjoy the changing leaves, cooler weather and KNITTING!!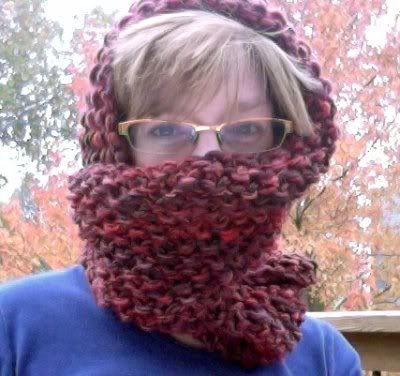 Your giveaway SUPER COWL is made of 100% wool, overdyed by moi and knitted with 2 strands of worsted weight together in a seed stitch pattern with a funky twist in the middle for superior twisting & draping. It's not a true mobius, but a "join, making sure there IS a twist in the stitches" type of thing. It's fun and truly funky and warm as can be!
I'll post the particulars in a free pattern/recipe soon. Thanks and happy knitting all!!
*****Make sure to leave your email addy or some way to contact you, but leave it in that format that spambots can't grab, like mine....ChristineDOTlongDOTtgATgmailDOTcom or something like that. :)