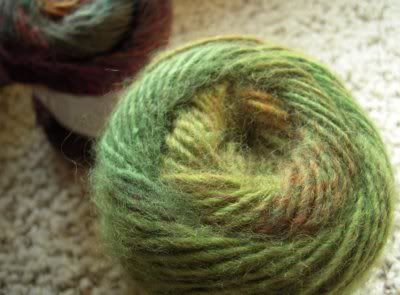 Have you heard about it? Seen it? SQUOOSHED it?
Amazing Yarn
by Lion Brand. 53% wool, 47% acrylic. Looks an awful lot like Noro Kureyon, but is SOFT and so far, no little knots with strange non-related colorways stuck in the middle. 147 yards/skein, beautiful colors, soft & fluffy and would be amazing next to the skin. I'm not a big fan of craft store yarns for knitted projects. I know it. BUT I happen to now have 6 skeins of this stuff in the cedar chest with my favorite yarns. Crazy.
I see so much potential in this yarn. And I think I'd better start printing off those 40% off coupons I get by email too!