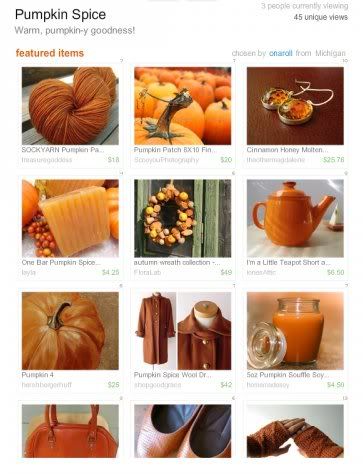 Please click the cool treasury pic above to go see it in real life. The more people that click on the individual photos, the higher ranked this treasury becomes and the more exposure the artists get, which makes us very happy. Any comments on the treasury would be highly appreciated as well. (I'd totally be your best friend!) Thanks to
On a Roll Cozies
for creating the treasury and including my pumpkin patch sockyarn in it! There's some REALLY cute wristlets on there and yummy pics and other fun stuff. OH, and On A Roll Cozies has some fabulous mp3 & coffee cup cozies, go check out her shop when you get a chance. She sells knitted objects and patterns as well.
YAY! I love Halloween and pumpkins and the cooler weather just makes me want to KNIT KNIT KNIT and SPIN SPIN SPIN. So, perfect timing, but guess where I'll be headed tomorrow?
YARN SCHOOL!
WOOT! (ok, I don't even know what woot means, just that people use it when they're very excited. I'm a techno-challenged dork.) I have to go a half-day late and miss the festivities of the Thurs night evening get-together, but I'll be there by mid-day Friday. Going to spin, dye, knit, eat, veg out. I really REALLY need a break from the daily grind. It's grinding me down. Hard. Good thing there's knitters about to help bring you back out of a funk, isn't it?
Many fiber filled photos to come after the weekend, I'm sure. WOO HOO for YARN SCHOOL!!!!!
Have a great fiber-filled weekend, everyone!