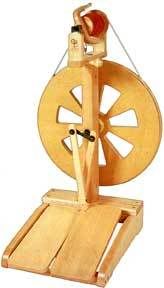 I decided on the Ashford Kiwi, purchased it from Nikol at
the Harveyville Project
and am now stalking the UPS tracking site, which only tells me "in transit" and "on time". *sigh* PLUS I'll have to wait until Hubby gets the pieces stained and put together. Plus I've spun up all my fiber, so there will need to be a bit of fiber purchasing made as well! WEEEEEEEEEEEEEEEEEEEEEEEEEEEEEEEE!
For now, I'm trying to knit up all the yarn I've spun so far on the begged, borrowed and rented wheels I've tried out. I've decided the orange yarn I made is really ugly yarn. Not in the cake, it's GORGEOUS in the cake. Just knitted up it's fugly as heck. I've just finished a scarf that I think helps it be the best it can be. I'll get pics soon. It's not as horrid as it was in sweater form, thank goodness! I've still got 3 balls of this left over, it may just sit on a shelf as it is looking pretty. We'll see.
I've also got 4 skeins of this stuff, not sure on yardage, just got a niddy noddy so will skein it up on that and measure it out. I spun it thicker, it's a light chunky weight and SOFT as cloud farts. I totally stole that phrase from
Teri
, who thought it was a bit icky so changed to something more appropriate....or was it soft as angel farts? Can't remember. Either way it's SOFT, man! I've got no idea what this bit of lovely will become, guess it depends on how much I've got. Maybe a hat and cowl or a bunch of cowls? Maybe I'll just walk around with it wrapped around my neck as is.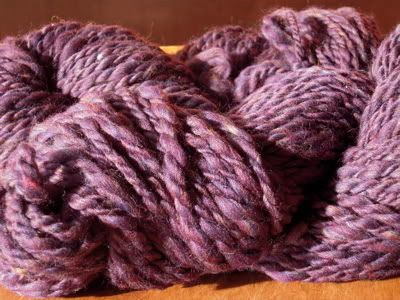 And, I've apparently caught something from the lovely
Tiennie
who always knits 4-8 of every project in every color of the rainbow. Probably fitting, since it's her pattern! I'm now working on BOTH my 2nd AND 3rd scarves in the
Old Shale Scarf (ravelry link)
pattern. I loved the red one (Vatican Pie colorway, baby) that I gave my sister in law so much, I've got about half-way through with mine. THEN I need to make a scarf for my mother in law also, so am making one that's thinner (only one full repeat with a half repeat on each side) out of some Socks that Rock. I'm also knitting my scarves in the garter version of the old shale pattern, basically the same, just with no purls. This pattern is unbelievably quick and fun. I'd highly recommend it. Who'd have thought sock yarn scarves would go so fast? I've got a sudden urge to knit 6 hats now for all the family....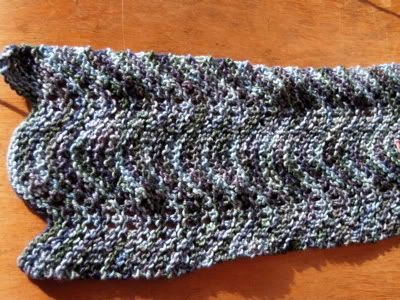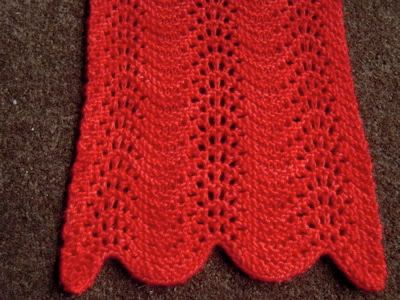 Wow. I've gone from a knitter with ONE or maybe TWO scarves for five years to one that'll have one for every day of the month. AND it's almost SPRING for cripe's sake. I think I was so scarred from the first year I knit of making 28 (YES TWENTY-FREAKING-EIGHT) furry scarves. not that there's anything wrong with furry scarves, my eyeballs itch just thinking about all that fun fur. woah. I just got chills. Yes, I realize I have a problem. I'm ok with that. Just don't make me knit anything hairy, ok?