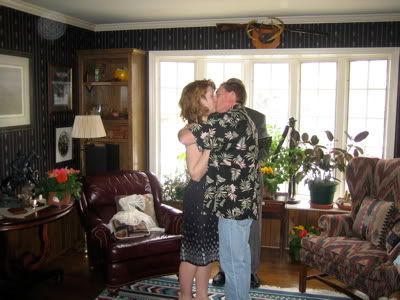 OK, seriously? There was a gun hanging on antlers over our heads? I had no idea until I saw the pictures. Dude, I just got married under an antler gun rack? Seriously? Oh and you KNOW it was loaded. You know what? Does that seem funny, yet perfectly fitting to anyone but me? The morning wedding was supposed to be outside but it was still freaking cold and so we had the ceremony in the "Cowboy Room", aka Jeff's folks' study/den/sitting room. It was just the immediate family and was wonderful. My old boss is now a minister so he and his wife came to town to perform the ceremony. It was very special and I am so happy!
Here's the new family: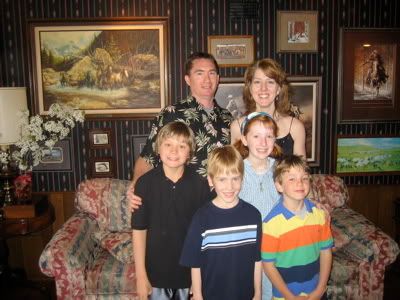 The redneck wedding cake, which I think was one of the highlights of the day. Jeff's sister created this for us and used the wedding cake topper from her wedding ten years ago. We had a lovely place for it, but then the sun came out (thank GOD) and it would have melted anywhere we put it. This left us short of tables. What to do? Well, my inlaws rigged it up on a piece of plywood balanced on a kitchen stool. It doesn't get any more redneck than that, does it? My family rocks. Thankfully the sun came out, since at one point I counted over 40 children running around tearing up the backyard of my inlaws and that of their neighbor who graciously let us use their playground and basketball court to go with our badminton set.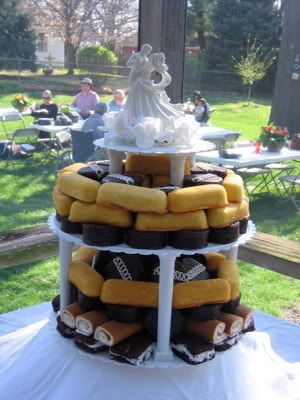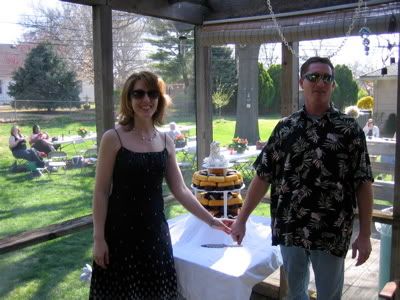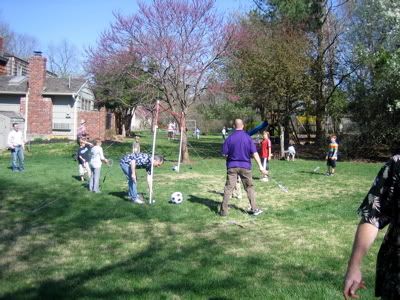 Oh, and of course there was knitting...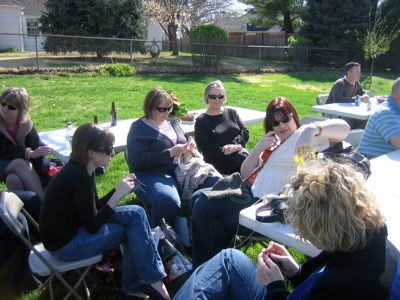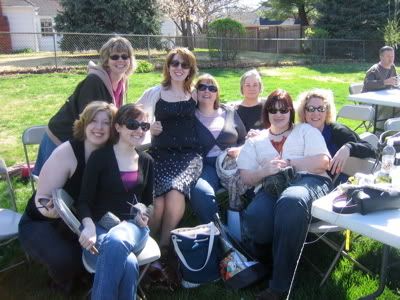 The good pictures are coming later, including those with me in the gorgeous wedding shawl made by Cheri! My sister-in-law took amazing shots and I can't wait to get them!
The day was exactly like we wanted it, family and friends outside, grilling, eating, dancing, having a ball. The only sad part was that I wasn't organized enough to get my best friend here in town for the party. I owe her a really big girls' trip out somewhere soon. I'm thinking Vegas!
We're off for a week in the Bahamas! Woo Hoo! Much knitting of socks, sitting on beaches, drifting in the sailboat and doing absolutely nothing. Can't wait! Normal crazy knit blogging to come after I come back full of freckles. Between Jeff and my pale skin, I'm hoping we don't both burst into flames the minute we get off the plane.
Antler gun rack, knitters, big ass fire and monster charcoal grill? OH and some mike's hard limeades. You betcha. It doesn't get better than this.