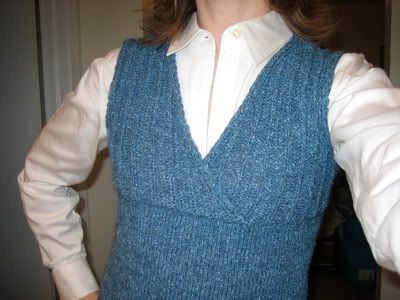 Pattern: Aleita Shell by Bonne Marie Burns in Interweave Knits Spring 2008 magazine
Yarn: Aslan Trends Artisenal 1.5 skeins, cotton, polyester and alpaca blend, heavenly cool
Needles: sz 3's for bottom border ribbing and 6's for the rest
Deviations from pattern: Realized my fronts were working up too long, so did faster increases at end and my shoulder seams are just over the back of my shoulders, I actually like the look better. I also said OH JUST FUXX IT when I was nearing the end and there was all this neck band knitting and grafting and sewing and finishing. I just seamed the shoulders to the back and put it on and wore it.
Wore it at work today with my khaki capri pants and little penny loafer slide shoes. I was flashing back to my preppy 80's days. Love the vest, did not love the way the pattern had to be written to save space for magazine article. Way too many "at the same times" for my taste.
Also, my daughter donated 10 inches of her hair to locks of love. She rocks. And looks quite cute in the shorter 'do. Here's the before and after: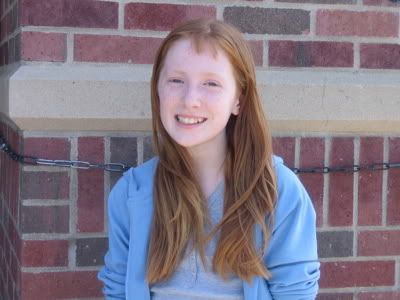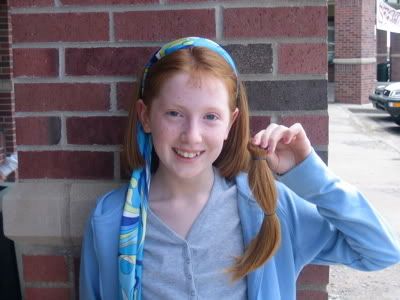 And these pics show that I had no fun whatsoever at our knitting conference, right? Gwen, it was so much fun hanging out with you again! And of COURSE I didn't take my pic with Stefanie while WEARING one of the sweaters I've made that she designed. No, that would have made sense. Instead this is the 2nd day and I'm sporting my glee sweater which I'm thinking is absolutely a keeper. I'm going to calculate out the stitches to make a smaller one for Elizabeth next fall.
Man, is there anything sexier than tall knitting redheads in the midst of all that yarn?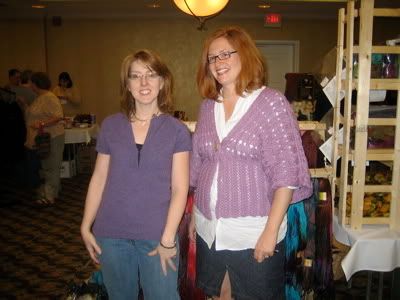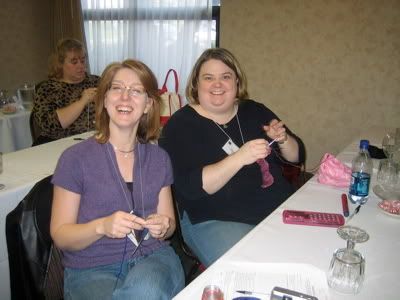 Three days till I'm getting mallied. Mallied? Mallied! We've decided against all the organized kids' activites. No jumping thing, no organized games. We're apparently going for the bedlam approach. We've got a volleyball net, ONE volleyball (can't you just hear the fights already?), a ton of badmitton rackets and birdies, a bunch of balls for kickball, etc. I'm also getting a lot of little bubbles, jumpropes and other misc. crap for them to be put into a big bucket. I may be overly hopeful here, but I've also got extra bottles of sunscreen and non-toxic bugspray (Avon rocks). Even though it's forecasted to be rainy and cold tomorrow and part of Friday, I'm SURE it will be sunny and gorgeous Saturday.