Not the FUN ultra knitting weekend the local knitting girls are going to, nope. They're heading off early Sat. to Wichita to see the Harlot, eat, knit, SHOP at the new shop there called Twist, knit, eat and have fun. OOOOOOhhhhh I'm jealous. Ah well.

My weekend will be spent driving the blazer, hauling a big ass trailer with my daughter's soap box derby car in it. We're hitting the road! Omaha, NE here we come! Mom & Dad are taking their rv camper, so we get to camp out in style. MY kind of camping. We've got a 2 day race ahead, with pleasant evenings and afternoons with almost nothing to do but KNIT!

Here's a quick update as I've not finished packing and have a ton of work to do before I leave.

I'm a cabling queen now! I'm just to the part of the shedir where I start decreasing. I've now learned both to cable, and to UNCABLE. Good to know.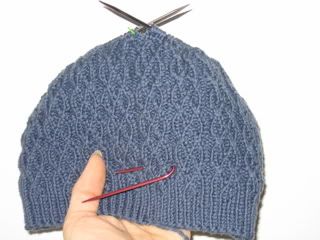 I'm done with one sleeve on Jeff's boyfriend sweater, taking it along to hopefully finish up the other one and the neckline so he can wear it in the chilly weather that's setting in around KC.
Finished Jeff's mountain colors barefoot socks and like a doll, he grabbed them up and wore them immediately. It wasn't really cold enough to wear them so he suffered for it, but claimed he loved them and they're the most comfortable socks he's ever had. I'll knit that man socks forever for wearing the bits out of my socks.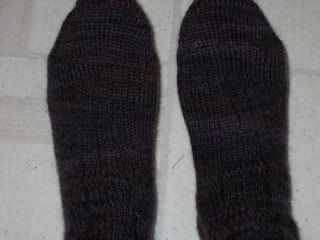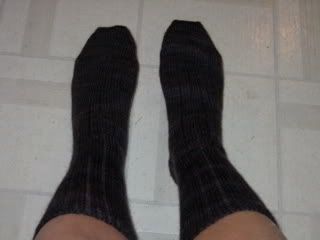 I've got to do some fixing up of things around here before winter sets in. The sleeves that were a touch long on my simple knitted bodice have now stretched out to absurd. I'll shorten them.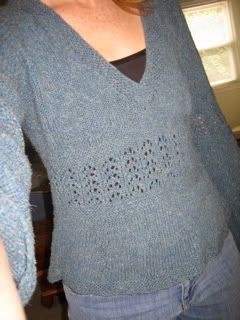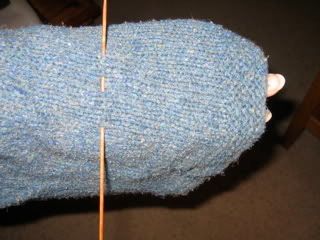 I also accidentally felted the crap out of my world's coolest tank top made from twisted sisters merino. damn. Now it's going to get cut and made into a vest somehow.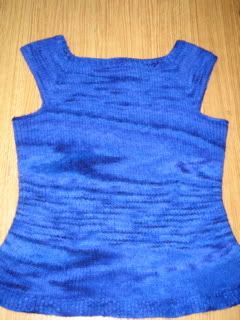 Knitting packing, does anyone else go a titch overboard? I'll have 2 evenings of knitting time plus some during the day on Sat. and Sunday. I've got along Jeff's sweater that needs another sleeve and neckline and tons of ends woven in. I've got 2 balls of sockyarn with a sock in progress on each of them (first sock on both). I've got my aunt's shedir hat in progress along with an extra ball of rowan calmer as it looks like I may need to break into the 2nd ball. I've also stuck in an extra ball of sock yarn JUST IN CASE. Yeah, because any sane knitter would figure of COURSE I'll finish the sweater, the hat, the two socks in progress and their two mates not even cast on and then be sitting around going crazy because I don't have any extra yarn packed. I've also got to entertain two children for that knitting time, so I'm guessing maybe the hat will get done and part of one sock. We'll see. Happy weekend!