Seriously, it's getting creepy around here. You be the judge. I'm a common law wife of a squirrel grilling (and eating) man. All weekend I drove a truck with a trailer pulled behind full of a kid's race car and a buttload of tools and actually KNOW HOW TO USE MOST OF THEM, have short broken off nails, STILL have some grease and oily crap way under those broken nails, my cuticles are shot to hell and I got to where I didn't even MIND peeing in the porta-potties. At one point I even snorted under my breath when I had to lift another kid's car up onto the trailer since the mom was a pretty blond thing in cute heels and with big hair who couldn't dream of touching a car, let alone PICK IT UP. At one point in the weekend I found I'd even tucked a greasy rag into my back pocket and was walking around like that.

I used to be one of the pretty moms with big hair and short cute heels that matched my outfit and pedicured toes. Now I'm starting to resemble Goober from Mayberry. WHEN DID THIS HAPPEN? If anyone sees me with a can of chaw and two balls of fun fur slap the SHIT out of me and sit me down with some koigu, ok? Pretty please?


Anyway, the weekend was FABULOUS! The girl is really becoming quite a driver and it was so much fun. She's such a competitor now that it's much more fun to race. She's such a gentle soul that she has lots of parents and even kids rooting for her. Soap Box Derby racing is such a great family event and the kids really are cheering for each other and helping each other out and still fighting it out for every partial second. SHE ROCKS! 5th place Saturday and 4th place on Sunday.
It was also cold as hell, so the fact that I'm a knitter came in handy. At the last minute, I threw in some wool hats, gloves, scarves and winter coats. THANK GOD FOR WOOL! Even my mom of "oh, I'm not really a fan of wool" was loving the lorna's laces superwash worsted weight ribbed hat I'd thrown in. I was actually toasty in my alpaca hat, wool fingerless gloves (had to be working on the car all day, so no fuzzy fingers allowed), koigu socks and clapotis. My daughter raced in her new crafty-in-a-good-way socks and we were all bundled up and mostly cozy in the 40 degree cold wind blowing day.
We stayed in mom & dad's rv camper and OOOOOOOhhhhhh that's the way to camp. The KOA campground we stayed at had a nice playground, free mini golf and even these fun bikes the kids could run around on. Great weekend even though I only had about 4 hours TOTAL for knitting. It was too damn cold the first day and also Omaha runs a seriously efficient race. At our home track in KC there's a lot of down time, sitting around, KNITTING time. I didn't hardly turn around and Lizzie was racing again. So, only had time for a couple rows on Jeff's sleeves. I did spend in between times de-pilling and picking fuzz off my clapotis. I felt very Elizabeth Zimmermanly as I remembered her writing about spending a pleasant afternoon defuzzing a knitted jacket when she was camping in the cold with her hubby.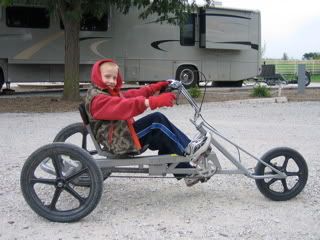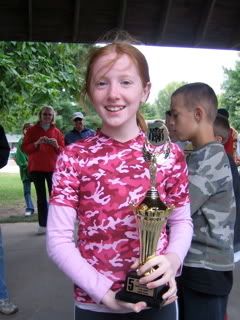 Though I missed the great Harlot weekend with my knitting friends, and am still just a teensy tiny bit unbelievably jealous, I was there in spirit as I took along her book KNITTING RULES and re-read it realizing that woman is not only funny but smart. I love her book. Can't wait to hear all about the fun I missed.