Click the button above for a cool tour meeting all kinds of creative people! Here's my info:
I'm TreasureGoddess Christine. I live & breathe wool. I love dying it, carding it, spinning it, knitting it, crocheting it, heck, I love just carrying around a skein of handspun yarn and petting it like a little dog. Forget purse dogs, we should all be carrying purse skeins of yarn! I *heart* everything wooly or alpaca-y or mohairy! My favorite thing to do is to create knitting and crochet patterns for unusual textured or art yarns.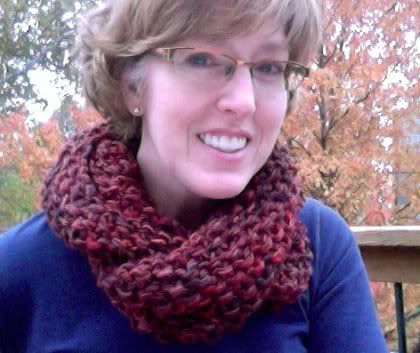 One project I am particularly proud of
is that I've raised two very crafty, creative and entrepreneurial children. One creates his own line of animal magnets and the other creates amazing art with old cd's, fingernail polish, glitter and other misc craft supplies she finds around the house. My kids rock. I would choose to hang out with these two even if they weren't related to me. (and I don't particularly like kids so this is saying something!)
Two mistakes I've made in the past
Mistake #1
The Leaky Boob Sweater
, where I learned that it truly pays to TRY ON a sweater as you make it, not just to make sure it fits, but also to make sure there's not a strange pooling in the handpainted yarn or some other unflattering feature along the way.
Mistake #2
Undervaluing my work. In the past I've brushed compliments aside with an "oh anyone could do that" or "it's not that special" kind of attitude. I've also underpriced my patterns, yarn and hand dyed fiber in the past as well. I create amazing, unique and FUN fibery things and should be PROUD of what I've created. I've learned when my prices are more realistic, my sales are stronger.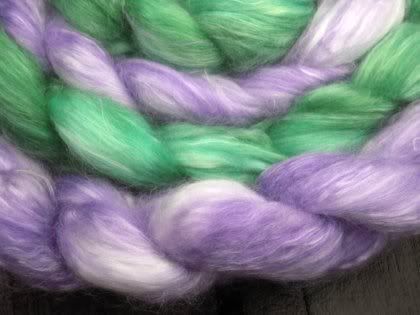 Three Things that make my work unique
#1 Me.
I'm a bit odd, quirky and fun loving. I believe my patterns and fiber creations reflect that. I am the TreasureGoddess! I snort when I laugh too hard, which usually makes me laugh even harder. I think of myself as the Goddess of Wooly Treasures.
#2 My family.
We have a strange part redneck, part art & culture, part LOUD, part soothing and part crazy life. The outdoor adventures clearly play a role in my creation process, as there's always knitting along to keep me sane.
#3 My studio.
My studio is in the middle of utter chaos. It's full of textures, colors, yarns, photos, flowers, colored pencils, spinning wheel, implements of destruction (knitting needles), magazines, fabric, unfinished projects, amazing natural light, view of the creek behind our house, and also doubles as our dining room when we have big family gatherings. No quiet studio loft with white walls and amazing counter space for me.
Four tools I love to use
#1 Ashford Kiwi spinning wheel, stained to enhance the wood and the wheel is painted deep red. It makes me happy and makes amazing yarn from nice, sturdy and respectable yarn to crazy art yarn supercoils!
#2 Knitpicks interchangeable circular knitting needles.
#3 Roaster for dying large batches of spinning fiber or yarn
#4 Notebooks. Can't EVER have enough.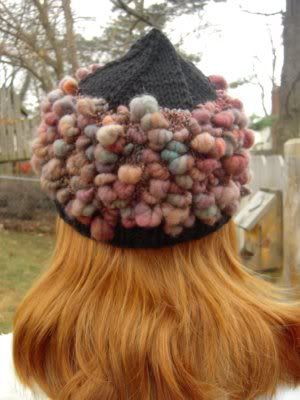 Five Inspirations
#1 Nature. As much as it tries to eat me, maim me or kill me, it truly is inspiring and beautiful. I'm glad we still have wild areas of the country to explore. And I'm very glad there's bugspray.
#2 Knitters and Spinners and Crocheters. Just talking with other fiber artists, seeing their projects, their color choices, textured stitches used....it gets my brain crazily finding new tangents or what about this stitch with that yarn and on and on and on. Knitters, Spinners and Crocheters ROCK!
#3 Craft Blogs. There are so many creative people out there!
#4 Old movies. Amazing costumes, textures, fabrics, styles
#5 Ravelry.com. My life is so much better with ravelry!