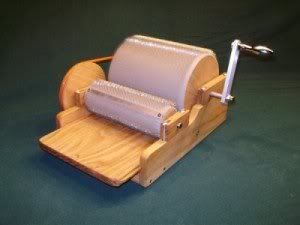 At the
Yarn U
event at Lebanon, MO this weekend, I got me a drum carder!! WHEEEEEEEEE! Imagine the photo above, but with a sweet brush attachment and covered in brown & cream llama fiber. LOTS of LLAMA! I also bought a bag of a washed llama blanket from
Whirlwind Ranch
.
It's a beautiful thing, made by Hogge Millwork in Iowa. I'd been looking at the ashland drum carders for some time, but both my husband and I were impressed by the woodwork and precision of this creation. We'll see how it holds up. So far, it's amazing!
Also, it's 7-11 Day! Can I get another Woo Hoo? WOO HOO! Get yourself to a 7-11 for a free slushie! Click
HERE
to find a store near you. I'm thinking a coke & cherry icee sounds like a perfect breakfast for a day that's going to be 148 degrees outside. :)
Better photos soon, I promise!