What do you think? Other than the fact that I can't stand still, it's a bit too dark, I talk too fast, my lake dress doesn't match the trademark TreasureGoddess ORANGE lopsided cowgirl hat and it's totally amateurish, what do you think? Is it at least helpful in learning a cool stitch for using handspun yarn? More techniques for knitting with art yarn will follow soon! PS--the video on youtube is much clearer (and bigger). Click HERE to see the TreasureGoddessChic channel.

This stitch is used on my Handspun Twisted Drop Stitch Scarf.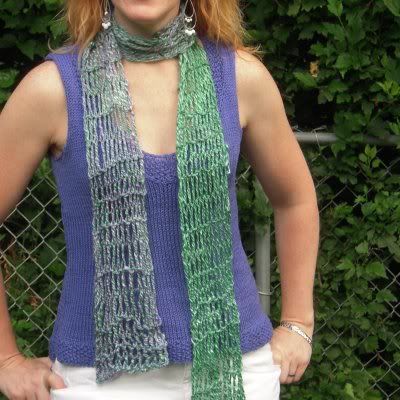 It seems I've always had a flair for fashion that's just a titch off society's norm. My aunt pulled this gem out for me the other day. I remember I LOVED this dress. Loved it so that I wore it almost every day. I also remember it came with an attached bow and I took it off because it would have made the outfit look "gaudy." Yup. I think the hope that I'll show a polished, professional image to the world as TreasureGoddess is not gonna happen. That ship sailed long ago. Man, check out the rick-rack on that dress! This world is a better place with rick-rack in it.